Karmod Plastic solves a very important problem in terms of transferring and disposing of rubbish in construction, which is an important need of the construction sector.
It is of great importance to dispose of rubbish wastes in accordance with occupational safety in constructions. In the transportation of construction wastes, the temporary solutions created on construction sites create both high prices and costs and short service life. The risks of accidents that may occur during the transportation of waste is an essential problem. With our Rubbish Chute product, we have brought a new product to the construction industry to put an end to all these problems.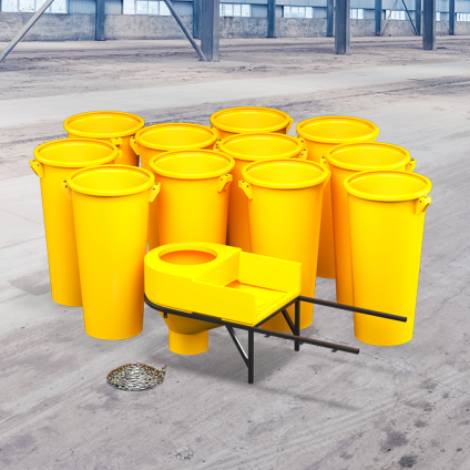 Our Rubbish Chute product is also known as rubbish tower in the industry. The rubbish disposal system ensures that rubbish or garbage from between floors in constructions and construction sites is regularly disposed of in rubbish collection areas in a manner that is suitable for occupational safety. If you want, you can collect waste in a certain area or use a closed waste area quickly by making different placements such as containers, waste trucks, textile workshop trolleys under the rubbish tower.
With its safety and robust structure of our Rubbish Chute product and the special design of the interfloor sluices, it eliminates the risk of accidents and injuries that may occur due to falling down parts during the disposal of rubbish. You can use our product, which is designed and produced by considering occupational safety criteria, in the long you want.
Rubbish Chute (rubbish tower) consists of three main parts: snow sluice, chimney and inter-floor fixing oil. Thanks to its easy installation and stylish appearance, it can also be used for garbage disposal in building waste systems. Since it is produced using high-strength polyethylene raw material, it does not wear out easily, it can be used many times. It can be dismantled from one construction and easily transported and installed in another construction.
Features of Rubbish Throwing Tower
Rubbish throwing tower is produced using LLDPE polyethylene raw material which has high strength in terms of structure. However, with our various special production techniques, reinforcements are made in the structure. In this way, it has a long-lasting use.
Thanks to its high impact resistance, Rubbish throwing tower features can be used during the construction of detached houses, apartments, skyscrapers, factories, shopping malls, etc. You can do your Rubbish downloads in a simple way with Rubbish Chute.
Rubbish Chute (Rubbish tower) Advantages of Rubbish and Garbage Transfer System:
It has the advantage of easy and fast installation.
Thanks to the interlockable conical structure of the chimneys, it provides easy transportation and space saving.
It can be used in construction of any height and in any floor range.
It is produced using high strength and UV stabilizing polyethylene raw material.
It is suitable for use in constructions and in all climatic conditions.
Thanks to its ideal thickness and flexible structure, it has high impact resistance.
It can be easily adjusted and used according to the floor range of any height.
Thanks to the inter-layer fixing feet, each floor carries its own weight. Thus, it can be used in high structures without any problems.
In order to separate the wastes, multiple Rubbish Chute (rubbish tower) systems can be installed in the same construction and different types of waste can be transferred to different collection areas.
Thanks to its easy installation and elegant appearance, it can be used as a garbage disposal system in buildings and garbage can be disposed of directly into the garbage container.