Karmod Plastic solves a so important problem regarding the transfer and disposal of debris (rubble) during construction, which is an important requirement of the construction sector:
Rubbish Chutes (Rubbish Chute, Rubble Chute, Garbage Tube)
It is of great importance to dispose of rubble wastes in accordance with work safety during construction. In the transport of construction wastes, the temporary solutions created in the sites are both costly and have a short life span. The risk of accidents that may occur during the transport of wastes is a bigger problem. MOLOZSUT (rubbish chute) or with the other name "Garbage Tube" ise developped to solve all these problems.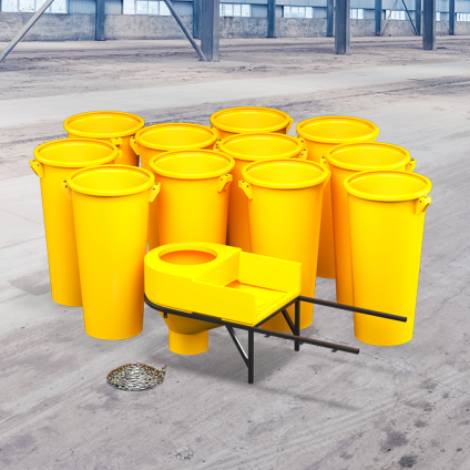 Rubbish Chutes (Rubble Chute) polyethylene debris system allows construction debris to be transferred to rubble collection areas or directly to containers in accordance with the regular and safe working conditions. Its safe and robust structure eliminates the risk of accidents and injuries that may occur as a result of falling pieces down during the disposal of rubbish thanks to its special design.
MOLOZSUT (Rubble Chute) system consists of three main parts: Hopper, Chute and Fixing Frame. Thanks to its easy installation and stylish appearance it can also be used for garbage disposal in building waste transfer systems. Because it is produced by linear polyethylene material, it can be reused repetedly and will not be worn easily. It can be disassembled from a building, and can be transported and installed to another building easily.
The advantages of the MOLOZSUT rubble transfer system can be summarized as follows:
Easy and fast installation.
Easy transportation, it can be intertwined thanks to its space-saving conical design.
It can be used in all buildings regardless of height and at every floor space.
It is manufactured by high impact resistant, UV stabilized polyethylene.
It can be used under all kinds of climatic conditions.
High impact strength thanks to its ideal thickness and flexible structure.
Easily adjustable and usable according to floor space at each height.
Each floor carries its own weight thanks to the steel fixing frame. Therefore, it can be used without any problems in high buildings.
It is possible to install seperate MOLOZSUT "Rubble Chute Tower" systems in the same construction and transfer different kinds of wastes to different collection areas.
Thanks to its easy installation and stylish appearance, it can be used as garbage disposal system in the buildings and garbage can be thrown directly to the garbage container by the help of this system.