Sector Specific Textile Trolley
One of the prominent designs in product range specifically produced by Karmod is its textile trolley. This product that is specially designed for intense work tempo in textile sector, comes into prominence so to speak as plastic workshop trolley in the sector. It facilitates transferring many textile equipment, mainly fabrics, in workshops and factories in the easiest and practical manner. Karmod textile trolley was designed with special expertise for the sector by observing usage functions in workshops and the same sensitivity is performed also in its production. Textile trolley price includes polyethylene tank that is the main carrier in addition to its specially produced metal cage and file pocket.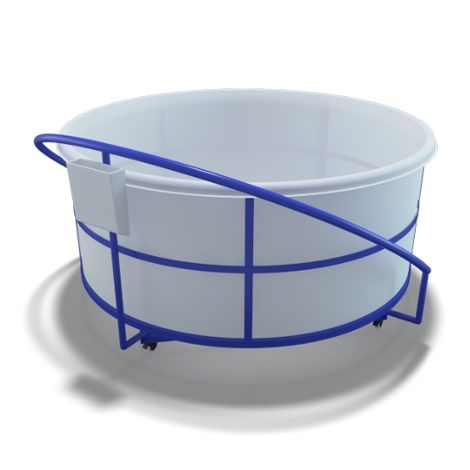 Use of its wheel system that be turned to every direction in 360 degrees, turns into a passion. With this characteristic, plastic workshop trolley always makes its users enjoy driving. Working tiredness is left behind, tempo and productivity increase. Attention is paid for its wheel selection that is seen as a detail, as a part of production in Karmod products. Wheel product selection was made according to maximum load capacity, with its long lasting use, the most productive earning was aimed for textile trolley price. With its automated brake characteristics included into this special wheel system, its comfort use was increased to the highest level. It facilitates carrying painted heavy fabrics with wheeled textile trolley in dyeing plants in textile workshops.
Karmod Textile Trolley Models include the best performance with high quality
With its all detail solutions from its polyethylene carriage tank to its special cage and wheel system, all models of Karmod textile trolleys work with the best performance. It makes a big contribution to productivity with its practical use in textile production factories as an extra employee. Textile trolleys in special design for the brand, come into prominence with their high quality and completed international certifications. All of our models in textile trolley sales contain ISO 9001:2008, ISO 22000:2005, OHSAS 18001:2007 and CE certificates.
With its polyethylene main carriage tank that is smooth and bright as a highly important characteristic in use, it is moved up to metal profile cages. The main purpose at this point is to ensure never harm highly valuable fabrics and other materials for textile workshops. In this regard, details in design ergonomic of polyethylene tank of textile trolleys were applied successfully on special moulds.
While the molds have an important function on the smooth surface, full smooth surface gloss has been achieved with the use of new generation rotation technology in production. After the production is completed, the textile trolleys transport trolleys are inspected in detail at the quality control stage. At this stage, the main polyethylene chamber and the metal cages and painting are controlled in detail on the belt line. Since the transport textile trolleys are produced with polyethylene LLDPE raw material, we always pay attention to durability, as in our water tank productions. The vehicle, whose tests are completed up to the wheel systems, is directed to use for the sale of textile trolleys.
Plastic workshop trolley that is manufactured by applying product specific automated heat treatment and using raw material in full density in modern facilities, has the best impact strength. It is operated for long years in intense usage circulations in workshops. It is used in safe without being affected from simple hit and friction. Conscious investor always know that he will have benefits from the best optimal saving with Karmod textile trolley price as a result of its physical life.
Health and Hygiene Easiness in Karmod Textile Trolleys
Karmod textile trolleys produced with use of polyethylene main raw material in food safety, becomes a safe part of textile production without harming human health. In the same time, it makes contribution to safe carriage of fabric and similar materials in a clean manner without staining. The same trust is also available in special painted metal cage systems and wheels.
Plastic workshop trolley maintenance and cleaning are very easy. It can be used safely for long years without need for painting and general maintenance. Its cleaning is extremely easy. When it is wanted, it can easily be cleaned with dry or wet cloth, pressurized or non-pressurized water options.
Ergonomic models specific for textile trolleys
Textile trolleys are produced in standard models with 4 different dimensions and appearance each designed with Karmod expertise. Textile trolleys are put on the market by producing in plastic trolley model with capacities of 1100 liters and 1600 liters in rectangle design and 800 liters in square model. Plastic workshop trolley in round model has 1700 liters tank. We recommend you to obtain information from our authorized person for textile trolley sales for special productions for your multiple needs.
The transport chamber in the plastic textile trolley models is produced using polyethylene raw material. Since polyethylene raw material is used, the plastic water tank has a solid and durable structure like the outer body structure. Karmod offers a wide range of products. We recommend that you get information from our representative about all the products of our company, which offers creative solutions for water or liquid storage needs, except for textile trolley models, and for textile trolley sales service.
Characteristics of Karmod Textile Trolleys
All of textile trolleys are manufactured with use of polyethylene raw material that is environment friendly.
Our productions have ISO 9001:2008, ISO 22000:2005, OHSAS 18001:2007 and CE certifications.
Our plastic workshop trolleys are produced as a whole in block form, they do not contain any addition.
It can safely be used in textile production workshops. It does not cause dirt, does not harm fabric as a result of having a smooth surface. The trolleys can also be used as carriers in different sectors.
It is produced white when no color is indicated, different colored manufactures can be made optionally.
Production labels and forms can be placed in standard document pocket in our textile trolleys, it makes production follow-up easier.
Its wheels that can turn in 360 degrees, have long-lasting use and specially selected for textile trolleys. It contains a brake system for usage comfort and safety.
You can contact with us for textile trolley price and other characteristics of the trolley.