Especially in recent years, the spending of people who work in the livestock fattening business have increased. On top of that, they can't find plastic calf hutches dimensions as they wish. This problem can be especially experienced with newborn calves. Karmod Plastic stands with stockbreeders with both calf hutches prices and dimensions.
In addition, there is a need for paddle boat in areas where river and lake tourism is present. As such, we did not ignore this need. Scientist who are doing research on a lake can also use paddle boat. So as a local brand, we both support science and the economy.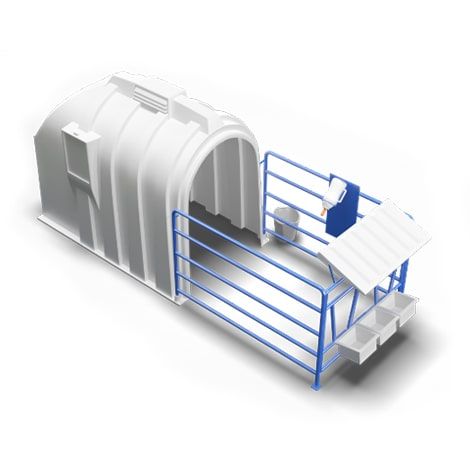 Plastic Calf Hutches
Big Plastic Calf Hutches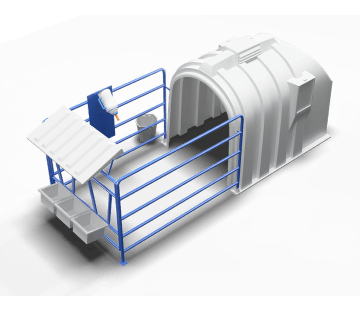 Plastic Calf Hutches
Small Plastic Calf Hutches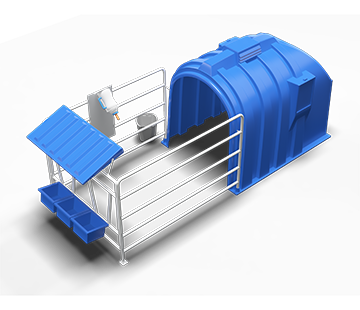 Calf Hutch Special for Milk and Livestock Farming
Karmod calf hutch is designed special for new-born calves in industrial farms operating business especially for milk and livestock farming. Calf hutches prices are especially determined to be available for farmers. It was aimed to provide contribution for new-born to spend their first weeks in a hygienic and healthy environment with a cute appearance of special design hutch houses of farms. An ergonomic product is presented with plastic calf hutches designed by observing needs of new-born and general settlement order in industrial farms.
It is manufactured with rotation technology in modern Karmod facilities by using polyethylene raw material in production of closed space creating main accommodation area of plastic calf hutches. With high production capacity, industrial farm needs are met in the best way and in the shortest period. It provides a big savings in transportation freight with its characteristic of its close space that can be placed in a row. Long-lasting and resistant metal cages, feeding rack and four stage adjustable feeding bottles, take place amongst complementary parts of plastic calf hutches.
The First 70 Days are Important for a Calf's Health, We Provide Calf House for Their Healthy Growing
Especially the first 70 days are highly important for calf's health. In this period, it is required to protect cute new-born that their immunity is not developed yet, from disease risk that can be seen often amongst animals. Karmod calf house ensures the best protection in this critical 10 weeks of period for new-borns. It provides special living spaces by keeping them away from disease risks that can be seen in farms.
While they are accommodated without any hesitation in summer and winter, they can walk in safe in its special fence protected garden. While they are fed with special poultry feeders, they drink water from special animal drinker. 4 staged feeding bottle ensures a big feeding easiness in growing process of calves. The more they grow up, the more stages are increased by care-worker of farm by increasing sucking milk of calves practically.
Why Karmod for Calf Hutches?
Mainly as a result of superiorities such as its ergonomic providing comfort with its design and its production and service quality, there are many reasons to choose Karmod plastic calf hutches. Another one of these can be calf hutches prices. As they are determined to be quite economical. While developing Karmod calf house, it was aimed to present the best model by examining animal life environment in farms. With its ergonomic where detailed solutions are provided together with its design in this line, the best production project was prepared.
Special moulds directly affecting structure quality produced by polyethylene raw material, was prepared. Special designed moulds are connected with new generation rotation technology in modern Karmod facilities and production of the best plastic calf hutches was started. The same production quality is also maintained in product specific metal fences.
At the beginning of comfort superiorities making product privileged that will make calf comfortable, is closed accommodation area in the best width and height. There are design details such as adjustable back ventilation outlet, upper section ventilation outlet amongst application completing comfort in this area. The most important difference directly affecting structure comfort is its production superiority. With assistance of these outlets, its structure owns ventilation system on all sides.
Maximum thickness and strength are ensured for a calf hutch by combining polyethylene raw materials in full ratio with rotation technology. An important detail in this point in terms of sun insulation, is to have the thickest roof system in this product. This system ensures a full protection of calf against harmful sun UV rays. Farm owners should certainly pay attention on these advantages for their investments while examining calf hutches prices. So that new-borns can survive and spend their first months in safe that is extremely important for their further lives.
It metal fence part also takes place amongst other product complementary details. It provides savings for safe garden living space for new-borns with its detail solutions complying with polyethylene hutch in the best way. Special profile cages at front side of fence also ensures the best settlement for poultry feeders produced from polyethylene raw materials again with Karmod expertise. Polyethylene shading mounted on poultry feeders removes negative effect of the sun on new-borns in feeding.
What Should be Taken into Account for Prices of Calf Hutch?
There are critical details determining prices as there are for other products. The fact that whether a product is expensive or cheap, is revealed while using it most of time. While researching price of calf hutches, it is absolutely required to pay attention whether product design complies with spacious indoor and garden area. In addition to these, do not forget to check out our types of led lights flower pots that can add a different atmosphere to your farms in the evening. All led lights flower pot models are available. If we go back to the calf hutches, it should be checked whether the wall thickness of the closed plastic hutches area can protect the calf from the UV rays of the sun. Does hutch provide usage advantage without being deformed? Does poultry feeder contain ergonomic, is there shading and do ventilation outlets contain sufficiency in terms of health? Does Manufacturer Company stand behind its products? Such important details become effective in determination of price interval of calf hutch?
How Calf Hutches Should be Used?
It is important to located plastic calf hutches in the most correct way to provide a special accommodation in average 70 days of period for new-borns? First of all, its structure should be placed on a smooth ground. Placing front side facing to south and back side to north, will ensure extra protection for new-borns. Area where the hutch will be placed, should be a grass area instead of a firm ground if possible. Using a soft display such as fodder inside the hutch, will make its use comfortable. Attention should be paid to distances between calf hutches in multiple aligned uses in industrial farms. Placing should be made to leave at least 25-30 cm between the hutches.
What are Included into Plastic Hutches Set?
Within the set, there are main body of Calf Hutches, Metal Fence System, Feeding Rack, Animal Drinker, Haystack, Shading and Milk Feeding Bottle. Special milk basket can be added to the set for customer preference.
Characteristics and Advantages of Karmod Calf Hutches
Main hutch produced with use of polyethylene raw material, feeders and shading have environmental concept with 100% recycling.
Its ceiling system thickened with its special design mould superiority, ensures the best protection against UV rays.
It ensures the best protection for new-born calves and similar animals and conserves them against infection and epidemics.
It provides a hot environment for living beings in harsh and cold climates.
It ensures the best garden protection thanks to its special metal fence.
With special shading over feeding rack, it prevents feed spoilage under the sun and rain, prepared a comfortable environment for beings.
All polyethylene surfaces are smooth, and do not harm living beings with its detailed solution. It has an odorless internal environment and it is cleaned easily.
Ventilation is ensured in a controlled manner with adjustable ceiling and back outlets.
Four stages adjust in its feeding bottle ensures the best feeding opportunity for calves.
With its best ergonomic, it protects living being for 10 weeks in the best manner.
With its telescopic system, its economic and easy transportation opportunity, price of calf hutch ensures saving.