Karmod is the pioneer and leading brand of water tank production with its expertise in its sector since 1986. Carrying out the production process in modern facilities with new generation technology machine park, Karmod also has rotomolded custom productions as well as standard water tank models. It integrates recently-developed tank models with the use of the best quality raw material in its modern facilities. Food safety standard, long life span, impact resistance and high environmental crack resistance are the outstanding features of Karmod water tanks.
Plastic water tank and polyester water tank models of our brand, which manufactures special tanks for various usage areas from 50 liters to 100 tons, are among the products followed in the sector. Again, AISI 304L and 316L stainless steel water tanks produced in cylindrical vertical, horizontal and rectangular designs are among the productions that stand out with their superior quality.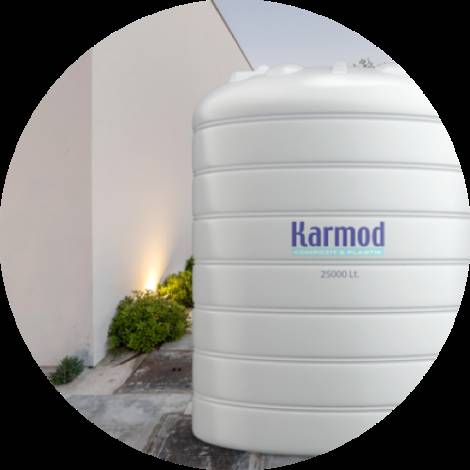 Karmod also carries out special productions from polyethylene raw material for the needs of various sectors. Within this scope, special calf hutches for the livestock sector, textile carts or textile trolleys for the textile sector and traffic barriers special for motorway use are among the productions of the brand. With its special polyethylene productions, Karmod has demonstrated its expertise by developing practical solutions for the needs of different sectors.
Plastic Water Tanks, safely for many years
Our plastic water tank produced with 100% recyclable linear low density polyethylene (LLDPE) raw material can be used safely for many years. At the same time, it is safer compared to many other plastic tanks with its food grade standard. Thanks to its high UV stabilized resistance, it provides superior protection against sunlight for the liquids that it keeps.
Plastic water tank models, each of which are produced with Karmod quality assurance, are manufactured in different sizes from 50 liters to 25 tons. Polyethylene water tanks have horizontal and vertical cylindrical as well as horizontal prismatic designs. It is aimed to provide particular solutions in ergonomic design for different usage areas with liquid storage tanks, each of which has the same function from horizontal to vertical. Vertical water tanks are designed in 18 different sizes ranging from 50 liters to 25 tons. Horizontal cylindrical plastic water tank models are produced in 9 different sizes ranging from 200 liters to 5000 liters. Prismatic water tanks are designed mostly for yards and domestic use and are produced in sizes of 100, 200, 300 and 500 liters. It gives a stylish look to the place where it is put.
Karmod polyethylene plastic water tanks have many outstanding benefits apart from the ones mentioned above. Exactly the same details in the specially developed molds which are fabricated expertly, can be taken on the products in the production process carried out with rotation technology. Aesthetic ribs, which increase strength especially in large volume products, are reflected in the molds with the expertise of design. Food grade compliance approved by the Ministry of Health is maintained for the lids as well as the polyethylene water tank itself.
In all tanks, special food grade screw type polyethylene lid is used. The fittings with brass, polyethylene or stainless steel options are also suitable for food contact. A special EPDM gasket, which stands out with its impermeability, is preferred in the joint of the fitting and the polyethylene water tank. Again, optimal wall thickness adjusted according to the relative density of the liquid, rivetless monolithic body, radius details that absorb pressure in the body-base joints are the outstanding advantages of our plastic water tanks. The smooth surface of Karmod's plastic water tanks prevents bacteria formation and algae growth, and provides the ease of cleaning.
Life Gets Easier with Polyester Water Tank Solutions
Producing FRP water tanks from the day it is founded, Karmod is the brand which provides the widest range of products in this field, with numerous models and product types. In addition to its standard productions, it continues to introduce innovative designs that make life easier with its R&D and P&D processes. Underground storage tanks up to 100 tons, polyester on-site mounted tanks, and highly insulated special tanks are among the most prominent ones of these innovations.
In Karmod's Polyester water tank production lines, standard tanks are manufactured in horizontal cylindrical and prismatic and vertical cylindrical designs, from 200 liters to 100,000 liters of capacity. Maximum resistance system specific to each liter, smooth and bright inner surface that provides ease of cleaning, resistance to sunlight and long life span are among the outstanding benefits of GRP water tanks. Karmod's polyester water tanks are preferred primarily for chemical storage, oil storage such as diesel oil, acid storage in industrial facilities as well as utility water, irrigation, fire-fighting water and rain water harvesting in both industrial and domestic buildings.
Stainless Steel Water Tank, from industrial to domestic use
Stainless steel water storage tank models, designed and produced with AISI 304L and 316L stainless steel sheets with Karmod expertise, are produced in different designs and sizes ranging from 500 liters to 100 tons.
Models have vertical and horizontal cylindrical and horizontal prismatic designs. Stainless steel tanks are preferred for storing foods such as milk, oil, fruit juice, vinegar, grape molasses, glucose, chocolate and some specific chemicals such as acids and diesel fuel in industrial facilities as well as for water storage. In stainless steel storage tanks, best quality chromium material is used in all details from carrier legs to special ladders. Advantages such as its long life span, ease of cleaning and maintenance make stainless steel water tanks desirable for numerous fields, from domestic use to food industry facilities. Prismatic tank models are especially preferred for water storage tanks in apartments and recreational facilities, especially in collective housing units.
Custom Products special for you at every turn of your life
Karmod continues to develop products to be used in different aspects of life with new designs made of polyester and polyethylene raw material. Calf hutches special for livestock, textile trolleys special for textile sector, road barriers, gasoline and diesel fuel tanks are among these productions. Pizza bag for food distribution, caravan water tank, swing seat, slide, waste water tank and decorative illuminated flower pots are just some of these products. With its expertise, Karmod provides support for companies that carry out industrial production in different sectors with special productions made of polyester and polyethylene materials.