Paddle Boat as the new name of fun on water
Karmod continues to provide service to the sector by realizing special designs for entertainment sector with its polyethylene environmentalist products. It is enough to cycle paddle boat for starting to have fun. With its carriage capacity for 4 persons, you can enjoy on the sea with your family or friends. In addition, you do not pay for energy or fuel. In the same time, you do not face with a port or marine rental fee. You should purchase this beautiful paddle boat models due to its economic price, you should not miss happiness to be experienced with a free entertainment on the sea.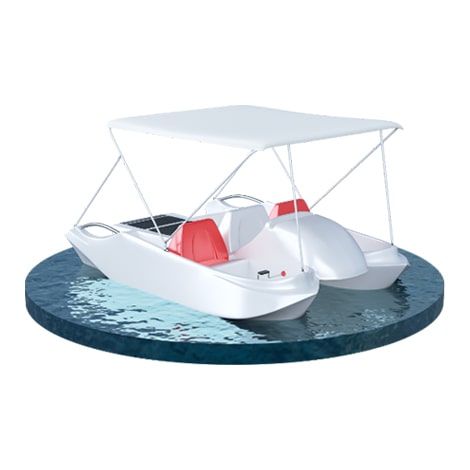 Paddle Boat, anywhere where there is water, Lake or Sea
Paddle boat equipped with new generation pedal wheel, makes people experience the best course joy especially on still waters. It is always used comfortable and safe in all areas such as private or public beaches, still bays, ponds, lakes and pools. It is easily taken down from valley or smooth areas due to its light structure superiority and it is practically used. It can be tied up on piers or barges and can be used for years without wearing off. You can double your fun with our pool water slide while you have pleasant moments with the pedal boat. You can spend hours full of fun with our water slide models in areas such as the sea, lake and pools.
Karmod Paddle Boat with the Best Quality and Ergonomic
By taking trust and unlimited service expectations of entertainment sector into consideration, paddle boat designed with Karmod expertise, was taken into production with the aim of the best comfort. Paddle boat has been the most preferred product in sales with its production and superiorities. Its detail solutions taking place in its design, usage ergonomic and functionality have superiorities from its counterparts. This ergonomic was used even in its seat and backrest reclining design for driving joy on this product.
Its design details were attentively reflected on product specific moulds with Karmod expertise. Mould preparation and applications were realized successfully with full reflection of design on production. Polyethylene raw material used in its production comes into prominence with its long-lasting use and impact strength. A smooth, slippery and bright surface was added to these superiorities.
The basic factor determining its production differences, is to manufacture Karmod paddle boat models by using new generation rotation technology. Production is realized in modern facilities, the product is increased to the best quality with use of raw material in full scale and with its special heat treatment kiln drying period. Polyethylene raw material used in production is resistant to UV sun ray and it provides comfort as on the first day without wearing off for long years. Polyethylene has full strength against intensively salty sea water and purified from corrosion risks. Thanks to these features, production is made by using polyethylene raw material in the production of plastic water tanks.
In Karmod paddle boat models, classic wheel system was left behind and new generation propeller system was used. Thanks to this characteristic, it is ensured to make faster and funny drive comfort on the water with simple pedal movements.
Paddle Board, a source of joy for young and old alike
With its new generation propeller system, pedals are turned easily by everyone from every age group practically. It ensures everyone can move forward even on shallow waters in the fastest way without getting tired. With its practical use, it becomes a source of joy and makes people experience happiness in full. Its rider seat designed with a special ergonomic and its backrest surface ensure a riding without getting tired.
Purchase Paddle Boat once and use for years thanks to its advantageous price
Karmod aims to make masses can reach entertainment easily with this product. Karmod that also determined its policy for paddle boat price within this frame, meets demands of individual users in the best manner. Individual users can easily make a single purchase for their use in their private pools in their villas. Companies dealing with entertainment operation on beaches, lakes or ponds, can easily increase their profits with paddle boat prices. Once they purchase this entertainment product, they can use it for long years. Its metal parts were prepared by using stainless metal accessories, these parts are not affected by sea water.
Paddle Boat means Silence and Peace
Lower paddle boats models on beach or pond where your business is operation and immediately commission it. You keep your home or business away from noise with nonmotorized sea entertainment vehicle. You guests can enjoy riding on the sea or pond quietly, in a calm and decent manner. You will always win by not using energy to be paid such as gasoline, diesel oil and oil, without need for maintenance. You can prepare a clean and oxygenic environment for your guests visiting your facility with its superiority that does not need fuel oil energy.
Advantages of Karmod Paddle Boat
Special quality of use without needs for maintenance for long years
Superior characteristics with its usage ergonomic
Propeller system ensuring new generation easy riding
Double-walled system with impact resistance
Special bottom system facilitating easy riding on paddle
Design making entrance and exit to deck
Downgrade step to swim with its back ergonomic use
Easy launching and taking back from water with its light structure
Easy to clean, structure and operation system that do not pollute environment
Special pockets for holding beverage
Environmentalist use without need for petroleum or electricity energy
Quiet, noise free riding
Paddle boat sales with various color alternatives
Capacity for 4 persons