Plastic minaret special for mosques
Mosques where Muslims pray 5 times in a day with their community, are highly important for them to perform their prayers easily. Call to prayer that is a messenger that it is prayer time for five times in a day, is recited from mosques and it notifies everyone about prayer time. Call to prayer recited in mosques by mouezzin, is announced to public by using a high minaret. People are notified about prayer time. Minaret that is higher than its mosque building, can be seen easily from far distances. It is also a sign for people looking for a mosque by seen with its form to find where its mosque is located.
Karmod Plastic is the leading plastic water tank manufacturer in the sector. Besides that, she manufactures useful products suitable for every sector by using plastic, polyester and stainless steel material. The plastic minaret used in our musjids and mosques is one of these products.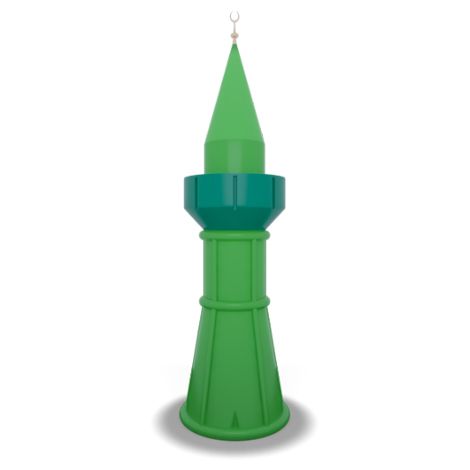 As a minaret construction technique, mostly the ones with stairs inside bonded by stone or brick, are used. Minarets are also built using reinforced concrete moulds. Especially for mosques in small scaled neighborhood or vicinity, Karmod developed a new model to meet minaret need in a practical and economic manner. Polyethylene minaret was specially designed with Karmod expertise and it provides practicality for use in mosque areas without a need for a construction process. Karmod plastic minaret that was designed by being inspired from traditional Islamic architecture concept, comes into prominence with its ergonomic and practicability and innovative system that does not need maintenance.
Mosque construction is usually performed on a voluntary basis, mostly by those who will use these places of worship. The basic principle is to use low budgets collected from volunteer beneficent with savings. This innovative product of Karmod ensures saving in mosque construction budgets with its very economic minaret prices. Minaret construction using reinforced concrete or brick takes very long processes. Additionally, it is required to draw a separate project in terms of building audit and safety before its construction. Due to the fact that minarets rise with a narrow body, its static calculations and building safety have great importance. Construction and workmanship processes of minaret structures built with classical reinforced concrete method are extremely long. Its construction can take months. Karmod portable minaret is far before construction processes in classical method completely behind. It can be fixed in place and becomes ready for use in the day it is delivered.
Plastic minaret is a safe and quick solution
At the same time, plastic minaret makes a great contribution to remove occupational safety risks. As we stated above, minarets those are constructed with use of classical reinforced concrete and brick, have very high occupational safety risks. A simple mistake can cause accidents resulting with serious injury or death of master working on its construction. For this reason, it is obligatory to take very serious occupational safety measures in construction of minarets rising for meters on a narrow body. Employees need a more secure platform to keep themselves close to minaret. Since they need to be connected with steel ropes for working safety, so that occupational accidents can be prevented. Intensity of these occupational safety applications also extend working periods. A minaret construction that is planned to be completed in 1-2 months, can take months due to measures for safety risks. Karmod polyethylene minaret removed accident risks and occupational safety applications required for minaret construction thanks to its ready to use concept.
Plastic minaret with Karmod advantages
Karmod plastic minaret model aims to provide a safe alternative for reinforced concrete minaret causing serious problems with its cost in mosque constructions and occupational safety risks. Polyethylene minaret designed as a result of works performed in R&D product development processes, have various superiority such as long term usage and stylish design. Minaret has also in and ideal size with its specially designed dimensions. Minaret production, where design details are successfully reflected in product-specific mould, is realized in modern Karmod facilities. By using polyethylene that can be recycled and that is environmental friendly, portable minaret is prepared with production in new generation technology rotation machine system.
You can decorate the outer areas of mosques and masjids with flowers with the LED light pots illuminated flowerpot models produced using polyethylene raw material. You can create beautiful images by planting plants such as roses, tulips, and orchids in illuminated pots in the entrance areas of the mosque.
Minaret Sales with all equipment
Karmod plastic minaret's main body is made of polyethylene raw material that has impact strength and long-lasting usage. In addition to main body, yellow brass alem takes place in the set since it is an indispensable object of traditional Islam architecture it is placed on top of minaret. Spire part in conical shape under alem, comes into prominence with its durability and strength. There is another main body under spire part, it is named honeycomb. There is minaret balcony produced in different colors for ensuring combination that is made of polyethylene on section wrapping minaret as a bracelet from upper-medium section. Its body formed by two sections, continues again from lower part of minaret balcony. The last part completing minaret, is its halpace (foot) section, minaret is fixed to the ground from this section. You should get information to have benefits from minaret sales under Karmod assurance from its main body to alem and to its minaret balcony. You can benefit and make savings in your minaret construction with economical minaret prices.
Karmod Plastic Minaret Dimensions:
Height: 360 cm
Minaret balcony width: 130 cm
Minaret width: 60 cm
Product dimensions have ± (3%) tolerance.
Plastic Minaret Characteristics:
Resistance to UV sun rays and impacts
One-piece production mould system without welding and rivets
Polyethylene raw material that is friendly to human health and environment in food packaging safety
Long years of use without maintenance and very easy to clean feature
Easily moved and relocatable building system
Repairable characteristic in case of usage errors
Resistant up to 50 °C