Led light pot adding color to architectural decoration
Led light pot models were designed to facilitate architectural design of social facility buildings especially such as villa and private gardens and restaurants. It brings vitality to any place where it is placed with its original designs including various colors. There are ellipse, square, rectangular led light pots, spherical decoration products, column designs, garden table seating. All of them are designed and produced with Karmod expertise to bring color and vitality to indoor and outdoor spaces. It is manufactured with a bright and smooth surface by meeting white polyethylene raw material used in its production with rotation technology.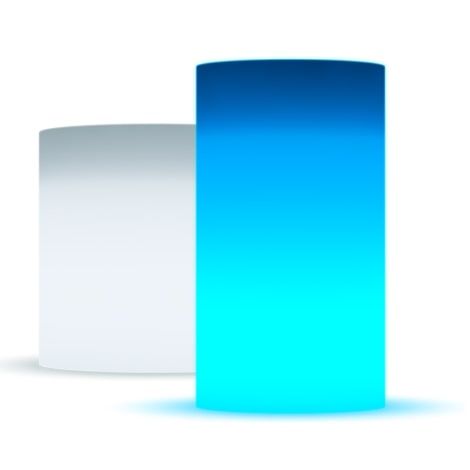 With transparency brought by whiteness, led light pot system is combined with the product and creates a different color combination, giving it a great look. In everywhere it is placed, it integrates with general architectural concept and fascinates viewers with its charm. Especially with the pool water slide products produced by our company, it creates a very beautiful view around the pools. Our led flower pot models have a functional use compared to their similar ones, with various ways of use.
Led flower pot with its special software system, is managed and adjusted remotely with a remote control and it can be controlled and it becomes a source of joy with light decoration management. When desired, it can be taken to a single color alternative and you can set whichever color you want to dominate your space. It has various alternatives such as blue, green, orange and yellow. This color setting can also be managed according to your taste with a light management suitable for your corporate identity. When you want to color the environment even more, you can choose variable color flow options by using the remote in your hand. By choosing different color modules, your space will turn into an attractive and charming environment where colors dance.
Where are colorful flower pots and decorative products used?
Colored pot models have an unlimited number of uses, regardless of indoor or outdoor pasture. There are various places where led flower pots are used in decorations such as indoor and outdoor spaces of villas, restaurants and cafeterias, tea shops, hotels, education institutions, locals, sport facilities, social facility service buildings. Among these places, villas and social facilities stand out.
Since villas are very special residence models, they completely reflect visual pleasures of the ones accommodating inside. Sometimes amongst these variations of tastes, you look for an ambient reflecting your feelings. You can never convey this feeling that reflects your wishes to your architect and private decorator. This colored flower pot and decorative products provide a full solution for your beauty seeking. When it is used, as soon as garden door of a villa is opened, you see an alignment and positioning making environment colorful. You can create a pleasing ambient in terms of appearance by placing an ornamental tree in garden with soil.
Cafes and restaurants are amongst the places where illuminated led light pot models are frequently preferred. A special concept is created making a place look different with led light pot models including entrances of cafeteria, tea shops and restaurant, garden and table equipment, around pools.
Customers from any place that uses colored flower pots leave with a pleasant impression that gives them happiness and peace. Cafeterias and restaurants equipped with pleasant colors with this special ambiance, call customers back again to experience a privilege. Colored flower pot models are very beautiful in any place form public service building to private social facilities, from parks and gardens to schools and hospitals and hotels.
Led pot making facilitating work of architects
It is always expected much from architects providing service in landscape and indoor design in projects required special decoration. Project owners ask them to come up with exclusive designs that make their spaces attract attention and make them different. Support is asked from them for this reason.
Led flower pot adds a difference to designs of architects and makes an important function to make their customers like it. With a light system that can be managed based on model and color, special flow pots provides a big easiness to architects to color their designs. Final touches of special places are given originality and privilege by using led light pot models.
How would you like your flower in a colorful pot?
Apart from the production of water tanks, Karmod plastic design furniture products have alternative usage advantages in decoration with manageable light system. It is used by place ornament plants into colored pot in many models such as round, square, cornered or rectangular. As artificial ornament plants can be placed amongst plant variations into the products in terms of maintenance easiness, real plants can also be placed. Living plants placed in led light flower pots can be in the form of flowers or ornamental trees. There are special water tanks and drainage channels in these pots.
Led light flower pot models for special your style
There are various models where garden table and seating group take place in addition to led light pots. Apart from these models, there are also decoration balls with spherical led system and column decoration products. In addition to special led light flower pot models, manageable lighted, remote controlled led light system can also be applied to all models. There is a pool tank on garden table and this part can be used as an aquarium by placing aquarium fishes in it.