Plastic Water and Feed Trough in Functional Use
Plastic water and feed trough that is designed and produced for industrial animal husbandry with Karmod expertise, facilitate animal husbandry with its practical use. With its special depth, wide inner volume and general usage ergonomic, it provides an important contribution to meet different needs in farms. With its 350 liters liquid storage tank capacity, it can also be used as plastic water trough. In the same time, it is also used as plastic feeding rack where foods such as herb, fodder and feed are placed. With these different usage advantages, plastic animal trough provides saving for industrial animal farms.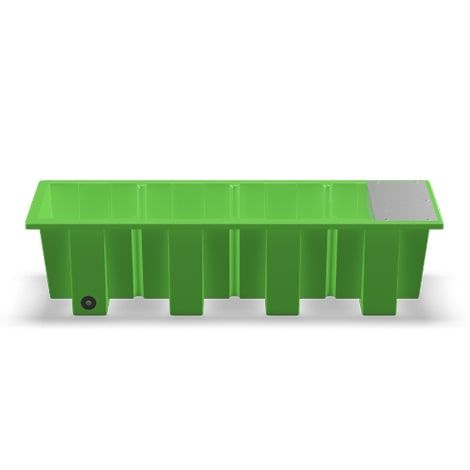 Plastic feed trough is safely used functionally in both ovine breeding and bovine breeding. It ensures that multiple animals can reach clean potable water and feeding racks in the same time. For this purpose, plastic animal feed trough was designed with 210x60 surface dimensions by taking farm usage conditions into account. You can examine our plastic water tank models, to be used together with the drinkers for continuous water supply for the water thoughs. Thanks to our high-tonnage tanks, you can quickly fill the plastic water basin when the level of water decreases inside it.
Long-lasting Water Trough Making Farmers Saving
Karmod water trough was designed by observing usage conditions in animal breeding farms. Its design was formed with expertise in special mould system, it was ensured that a smooth and slippery surface that will not harm animals, are obtained. By using polyethylene raw materials with this special mould, plastic animal trough was taken to production on the modern line operated with new generation rotation technology. With full-time special heat treatment kiln-drying realized in production stage, it is ensured that the product is realized with the best strength. Plastic feed trough prepared with modern production, meets with animal husbandry farms for a safe use for long years.
The product that is purchased once and that has impact strength, is used for long years in safe in farms and water trough price is minimized as a result of saving ensured. Investors with medium or industrial high-capacity farms gain as they use it, considering price of plastic feed trough that pays off.
This trough with its high impact strength, is safely used both in fenced farms and open meadows for years without not wearing off and without need for maintenance. Plastic water trough also does not need paint and other maintenances for years due to its special paint penetrated to the product. It meets both water and feed needs in the best way without harming animals thanks to its food security characteristic. It is easily moved to different areas thanks to its very light structure and can be dislocated practically.
Float valve system in Karmod Water Trough
Plastic water trough designed and produced with Karmod expertise, has an automated filling mechanism. Thanks to this mechanism, it is connected to mains water and water is supplied and automatically in a continuous manner in safe and it is filled. With its float valve system, providing water to animals in farm turns into a pleasant work. While the system is self-operated with this mechanism, farm caretaker performs just general control.
Cows and sheeps obtain healthy and clean potable water without need for maintenance. They can drink water anytime and they never suffer lack of water. With automated valve system, wasting animal potable water through flowing is prevented.
Where is Plastic Feeder Rack be used?
It is used for many animals in all farms where many medium and advance level industrial animal breeding is performed. It is safely used for different animals such as milk cows in these farms, animals in meat farming, sheeps and goats, and in horse farms. Many animals can drink water from a trough in the best ergonomic in the same time with plastic water trough used in industrial production facilities. With its wide dimension design, price of plastic feed trough ensures saving from budget. It is used with the same comfort in also in small farms realized as a hobby for animals belonging to families living in villages.
Plastic Water Trough protects animal health
Plastic water trough that is produced with use of polyethylene raw material in food security, makes contribution for protecting animal health by preventing bacteria formation. In the same way, it also protects human health with its security characteristic. Caretakers and farm owners remain in safe by using plastic animal trough. They protect both their investment and their health. Special mould technic prepared with expertise, makes a big contribution to smooth production. Polyethylene material, together with the system carrying mould details to each product with its special rotation technology, is turned into manufacture with a smooth and slippery surface. Thanks to this special mould and production technology, Karmod plastic feed trough does not harm animals during feeding. Apart from our plastic water troughs, you can also examine our calf hutches for healthy cattle raising in large livestock farms.
East settlement in desired alignment with Plastic Water Trough
Specially designed Karmod plastic water trough, has easy and practical alignment advantage according to usage preferences in animal farms. It can be used with independent units based on situation allowed by environment, as well as side by side alignment. Also, it can be commissioned by making a corresponding settlement.
Karmod Animal Trough Dimensions
Capacity: 350 liters
Height: 50 cm
Width: 60 cm
Length: 210 cm