Fiberglass is a material that has been used for the storage of liquids for many years. Although water is the first thing that comes to mind when we talk about storage of liquids, it is also very important to provide functional and reliable solutions for the storage of liquids such as petroleum, its derivatives and various chemicals. Today, fiberglass is the most commonly used material for storing such petroleum-derived liquids and chemicals.
Production of fiberglass oil storage tanks requires a deep expertise and experience. Karmod, founded in 1986, has an experience of over 35 years for production of fiberglass tanks, serving to thousands of domestic and international customers. Our production staff has undergone all technical training on GRP fuel storage tank production. In this sense, as Karmod has got all necessary technical infrastructure, our staff has also got enough knowledge and experience about production of FRP fuel storage tanks.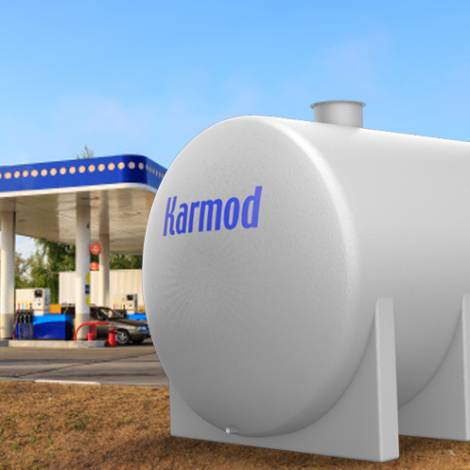 Manufactured with Karmod's experience and quality, complying with the international standards, basic feature of Karmod's fiberglass diesel storage tanks and fiberglass fuel tanks is their durability which makes them usable for many years without any failures. Our GRP diesel fuel tanks are not affected by any factors, such as groundwater, humidity, corrosion etc, resulting from underground or aboveground physical conditions.
Our fiberglass fuel oil storage tanks are specially manufactured on project basis, after our speicialized staff's field observations, final calculations and a comprehensive project design. Large-scale tanks can be assembled on-site at the places with narrow entrances, transporting the main parts of the tank seperately and assembling the components on-site.
Fiberglass storage tanks are known as the best option for bulk storage of many liquids, especially for storage of oil, throughout most industries. Either standard or custom designed, all GRP diesel fuel storage tanks are manufactured with particular thermoset resins, ortophthalic, isophthalic polyester or vinylesters, which are reinforced with good quality glass fibres.
Fiberglass fuel storage tanks can be used as either aboveground fuel storage tanks or underground oil storage tanks. Both aboveground and underground tanks have advantages over each other, but these advantages are relative, because the main factor that determines whether an aboveground tank or an underground tank should be used is the user's needs. Therefore, the following criteria can be considered before making any choice, taking into account the balance of benefits and costs:
• Both aboveground and underground tanks are ideal for storage of petrolium based liquids such as fuel oil, diesel, kerosene, oil, gasoline etc.
• Since underground tanks are used beneath the ground surface, they do not affect the visual appearance of the environment negatively. However, aboveground tanks, especially the large sized ones, generally do not look very pleasing aesthetically.
• Manufacturing and installation costs of underground tanks are higher than aboveground tanks.
• Placement and installation of aboveground tanks is faster and less laborious than underground tanks.
• In the long term, maintenance and reparement costs of aboveground tanks are lower than aboveground tanks.