Fiberglass Storage Tanks Models
Karmod offers an extensive range of fiberglass tank options to the users according to their purpose of use, from 200 liters up to 100000 liters. These tanks can be used as GRP water storage tanks, GRP rain water harvesting tanks, GRP diesel storage tanks, GRP chemical storage tanks, GRP septic tanks, GRP brine tanks, GRP pickle tanks, GRP fire fighting water tanks or GRP fire sprinkler water tanks, GRP foam tanks and GRP acid tanks, etc. Besides that, in case of lack of suitable space to place the tank above the surface, these tanks can be burried beneath the ground surface and can be used as fiberglass underground water tanks. If it is not possible to carry the tank to the place where it will be used, a site-assembled water storage tank can be the best option.
Specifications of various types of fiberglass storage tanks differ according to the purpose of use. For instance, if the tank is intended to be used for storage of potable water, inner surface of the tank should be covered with a gelcoat layer which is suitable for food contact. This foodgrade gelcoat layer allows the potable water to be kept safely inside the tank.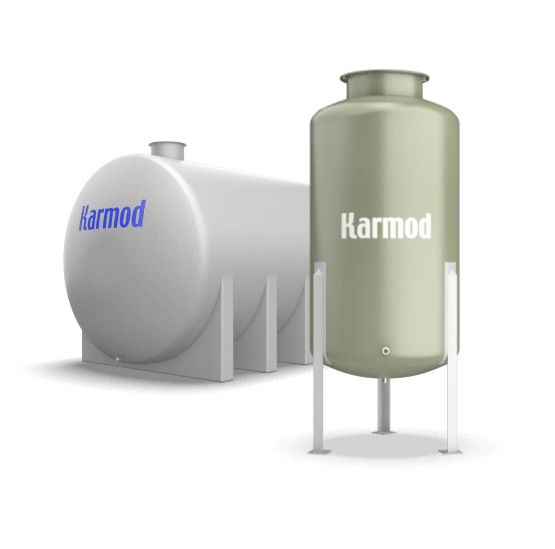 Glassfiber Reinforced Plastic tanks, shortly called GRP Tanks or FRP tanks, are generally used for storage of potable or non-potable water and other liquids. Glassfiber reinforced plastic is known as fiberglass. In fact it is a composite structure, because it is formed by combining a few components by the help of specific binding agents and actuators. The basic components of GRP are glass fibres and thermoset resins (usually polyester, vinylester or epoxy resins). Thermoset plastic resin is reinforced with glass fibres which gives the impact resistance and strength to this new composite material. After the components are combined, a curing time is required for GRP to reach its optimal mechanical properties. After the completion of curing process, Karmod's FRP water tanks can be used for many years with their smooth inner surface and high impact resistance.
Basic specifications of fiberglass storage tanks are:
• Fiberglass is a rustproof and corrosion-free material so that it can be used aboveground or underground without any fear of failure.
• Size of an FRP storage tank is not dependent on a moulding process, so it is possible to manufacture any size of tank with hand lay-up process.
• A fiberglass tank can be practically placed anywhere due to its strength-to-weight ratio.
• It can be transported easily.
• It can be utilized as a transportation tank if it is reinforced adequately.
When a small sized tank is required, unit cost of a fiberglass tank is higher, compared to a polyethylene tank. Therefore, fiberglass tanks become adventageous when large tanks or custom-designed tanks are needed. Today, Karmod supplies best quality GRP water storage tanks, to thousands of customers in domestic and international markets.
Basically, there are two types of fiberglass water storage tanks; potable water tanks and non potable water tanks. As it can be understood from their names obviously, potable water tanks are used for storage of drinking water, so the inner surface of these tanks must be suitable for food contact. Non potable water tanks are usually used for the storage of process water, i.e. the water which is not used for drinking. Process water such as cooling water for radiators, water for washing vehicles or irrigation systems, etc an be stored in fiberglass tanks.