Fiberglass Special Products for Industrial demands
In addition to standard productions, special products are also produced from polyester raw material since 1986 with Karmod expertise. With this expertise, it provides production support for special needs from automotive to ship building industry, from energy to agriculture and animal breeding. With our fiberglass special productions, we bring solutions for special designs of different sectors and we make companies earn from both time and budget.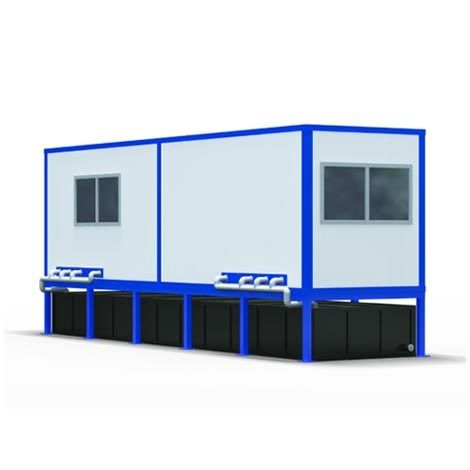 While companies focus on their works, they leave their own productions' detailed solutions to Karmod expertise. For production of detailed parts to be used in machine equipment, they make investment and they get rid of extra budget load and they obtain benefit. They make that their detailed parts that they need, are produced with Karmod expertise from polyester and polyethylene raw materials and they enjoy working with a solution partner.
With value paid for sustainable commercial relationships and trustworthy companies, Karmod provides service with its fiberglass and polyethylene special products to many companies. By using polyester raw material taking form easily, we minimize mould and production costs and we make investors obtain extra benefit.
FRP Special Products are parts of production in Automotive, Airplane and Marine sectors
FRP special products are important parts of vehicle productions in transportation sector. They are preferred in important parts in automotive industry with its high endurance, impact strength and superiority not allowing rusting. Airplanes in aircrafts and buses and trucks in highway vehicles take place amongst vehicles prominent where it is used most commonly. Body panel parts of these vehicles take place amongst sections where fiberglass is used utmost.
In the same way, bumpers sections and sunroof frames designed as openable on vehicles in sunroof and air conditioner, take place amongst the places where it is used utmost. Indicator panel part, heat converter shields and seat parts also take place amongst these places. Fiberglass and polyethylene are preferred especially due to decreasing weight in airplane and automotive production industry and their corrosion resistance and economical costs. Also low painting and maintenance costs of fiberglass parts take place amongst important factors to prefer these parts.
Parts produced from polyester material are also used in railway transportation vehicles. Railed cars, transportation wagons take place amongst areas where UP resin composite materials are used.
Also ship building industry where marine vessels are produced, take place amongst transportation vehicles where polyester material productions are used. Especially in main body productions of touristic luxury boats, polyester materials are intensively used. Body lightness is the most demanded characteristics in transportation vehicles. Especially racing cars, boats and airplanes benefit from this light material superiority. Polyester materials are also preferred as a part of decorative design sometimes in transportation vehicles.
Fiberglass products are important parts of construction sector
Concrete moulds made of polyester have a special function in construction stage. Architects benefit from polyester materials for elegant designs on building facades and roof decorations. Shower trays, bathroom cabinets and washbasins in most of houses, are produced by using polyester and acrylic mixtures. Special products made of polyester raw materials are using in construction areas. Our polyester water tank products, which are produced with a capacity of up to 100 tons, are preferred for water storage needs.
Special fiberglass productions in Furniture and White Appliances
Special parts produced by polyester are used often in furniture and white appliances sector. Polyester raw material is used in production of wet parts where water is circulated such as washing and dishing machines. Polyester parts safe against corrosion, work and run on without problem even though they are exposed to water for long years in machines. In the same way, fiberglass decorative parts are preferred due to the fact that they are economical and provide advantages such as impact strength.
FRP Special Products Are Safely Used in Every Area Of Life
FRP parts with their low coating and production costs and practical solution, are used in safe in all areas of life. Sometimes we see it on electric poles lighting our streets bright as a new pin as day time, you never check its detail. It protects electric light on pole under all climate conditions such as rain or snow. It provides continuous service for humanity with its decorative appearance for lighting without problem.
FRP provides special tank solution sometimes in waste water lifting stations. It provides a big contribution to treat polluted water and to protect environment in the best way without being seen. It works as a fuel tank in a vehicles sometimes without being seen. It covers a distance for miles and miles in peace by using gasoline and diesel oil maintained in safe for long years.
Sometimes, it turns into a slide where little children go down the slide with joy in a children's park. Sometimes, it turns to a part performing an important function in occupational health and safety. Sanding mask is a part made of FRP special production. Sometimes, it becomes the best assistant of an artist presenting a work of art. Before you know it, fiberglass becomes a paper marbling tank of an artist.
Polyester special products are with us in life without being noticed. Karmod is always with companies as a trustworthy solution partner with its industry productions facilitating human life with its expertise.