Stainless steel water tank models have started to be used in the field of production and industry in recent years. While determining the stainless steel water tank prices, the budget and needs of your buyers are taken into consideration. There are also vertical stainless steel water tank options in different designs that provide advantages just like stainless steel water tank price list. These tanks can be manufactured in very large magnitudes with special planning. Also, while presenting affordable prices just like stainless steel water tank prices, they are among the most useful and highest-quality water tank category.
Stainless steel water tank models, which offer many advantages to their user in terms of stainless steel water tank prices, when we look at their general purpose of use, we see that they are tools that enable the storage of a drug or chemical substance, preservation against external environmental factors, and draining down when needed, even though they are mainly used for storing food and drinkable liquids.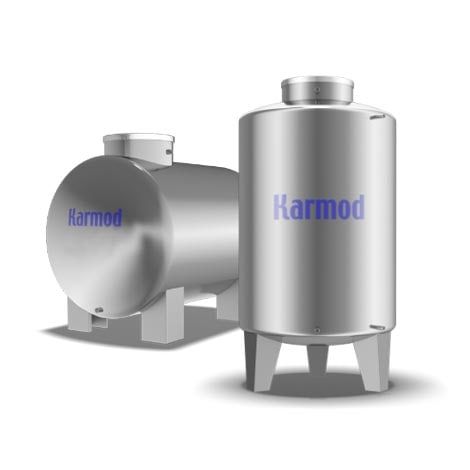 Stainless Steel Water Tanks with Karmod Quality Superiority
Karmod's expertise in tank products was influenced while determining the stainless steel water tank price list. So much so that the stainless steel storage tank continues with solution alternatives. Stainless steel water tanks, each of which are expertly designed and produced with advantages especially in terms of stainless steel water tank prices, are used safely for many years with their long-lasting system and quality advantages. Stainless steel water storage tank is preferred in many different areas from food production facilities to chemical industry facilities including storing clean water.
Stainless Steel Water Tank in 49 Different Dimensions from 500 Liters to 100 Tons
Stainless steel water tank that is designed in a special ergonomic in different areas where it is demanded, is produced as standard in 49 different tonnages in 3 different category models. Products in wide options from 500 liters to 100 tons capacity, can be prepared optionally as special productions. Karmod produces vertical stainless steel water tank, horizontal stainless steel water tank and rectangular stainless steel water tank models with its commonly used steel system storage tanks.
Karmod, a Trustworthy Brand in Stainless Steel Water Tank Production
Bringing a special solution for different liquids in storage tank production, is extremely important in terms of safe use. Especially for high tonnage storage tanks, pressure specific static calculation is a prominent in safety. In the same time, technology use in production and applications details requiring expertise are important for safety. Karmod prepares safe products in different areas of use from project to design in its stainless steel storage tank production. Liquid storage tanks that are projected and produced with the brand's expertise, are used for long years in safe in many areas.
Karmod uses steel sheet in AISI 304 quality class as a standard in its stainless steel water tanks production. Production is realized in class 316 optionally according to customer preferences in special productions. Argon-arc welding is used in connection points of our storage tanks. Karmod purified its productions from use of steel material equivalent except this classes and improved its production's quality standard. Its main purpose is to make its customers meet with the best quality stainless tanks from project to raw material, from production to delivery. Practice is realized by special trained personnel, it is subjected to quality control system in all stages and subjected to impermeability tests.
Stainless Steel Water Tank Models are Used Safely from Food to Chemicals
Long-lasting stainless steel water tank is used in safe in many areas from domestic use to industry. Stainless steel tanks are used in storing potable and utility water in clean quality in buildings, mass housings, separate houses and villas. In this area where sports and social facilities take place, rectangular stainless steel water tanks are the most preferred models.
The most preferred tank model is stainless tank model in food sector with its characteristic of being stainless, slippery surface and cleaning easiness. These special tanks are preferred in healthy storage of various products and raw materials such as water, milk, juice, vinegar, olive oil, chocolate, glucose syrup, and molasses in good sector. In the same time, storage of special chemical acids used as food additives, is made by stainless chromium tanks. Vertical stainless steel water tank come into prominence amongst models used in food industry.
Chemistry sector is one the places where stainless tank products are commonly used. Special liquid raw materials used in acid, oil and medicine production, and petroleum products are used in safe in stainless steel storage tank.
In Place Assembly Service for Stainless Steel Storage Tank
Karmod provides assembly service in place for stainless steel storage tank as its other storage productions. In place assembly storage system provides special stainless water tank for all avenues that has narrow entry such as building and site basement floors. Exploration is made in place in the first stage of in place assembly productions. Project is provided to our customers by realizing a work on the most suitable steel tank model for that place after exploration.
After approval stage, tank taken to preliminary production in modern facilities of Karmod, is manufactured with demounted system. It is dispatched with its assembly planning determined after manufacturing, its installation is initiated by Karmod experts. Stainless water tank that is controlled after installation, is provided to safe use of our customers. You can make an offer by sharing video or image with us for in place assembly steel system storage tanks.
Underground Use Stainless Steel Water Tank
Stainless water tanks are used by embedding underground with the purpose of saving place in areas of use such as industry facilities and mass housing areas. Karmod stainless steel storage tank specific for underground endurance conditions, is used in safe without maintenance for long year underground.
Technical Characteristics and Benefits of Stainless Steel Water Tank
Karmod Stainless Water Tank is produced by using stainless steel sheet in AISI 316 and 304 standard. It is suitable to use for food storage. They offer advantages to its users in every way, both with the prices of stainless water tanks and the use of quality raw materials. Let's take a closer look at the technical features of these tanks.
It has endurance characteristic for corrosion and rust occurrence.
Stainless steel storage tank is smooth and slippery in its internal and external surfaces. It does not show dirt easily.
It has quality assurance against leakage.
Stainless water tanks have hydrophone connections with its discharge and level indicator exits.
It has a wide manhole for tank cleaning and similar processes.
There is a special ladder system in vertical cylindrical and rectangular stainless steel water tanks in a height difficult to reach.
It has a characteristic suitable for connection between tanks to use more than one tank together.
Production is made in demanded tonnage capacity in 500 liters and 100 tons interval.
Production is made in 3 different models as horizontal, vertical and rectangular.
Production can be made together with mixer.
Assembly tank production is made in place specific for places with narrow entrance.
Do not forget to check out horizontal stainless steel water tank options that have similar to stainless water tank prices and features. Just like stainless water tank price list, the price list of these tanks is determined to stay affordable. Besides the stainless water tank price list, they are used in many areas thanks to their horizontal design. Just like in stainless water tank models, these tanks also fall under the highest-quality and the most useful water tank category. You can get in contact with our customer representative to get information about stainless steel water tank prices and other questions that you may have.