When vertical stainless steel water tanks are mentioned, we think of tanks used in almost every area around us. That is because, vertical stainless steel water tank prices are determined to be accessible. So much so that the vertical stainless steel water tank options are mentioned as the most efficient vertical stainless steel water tanks and the highest-quality stainless steel water tanks in the stainless steel water tank category. Beyond this high-quality, stainless steel tank prices are also quite affordable.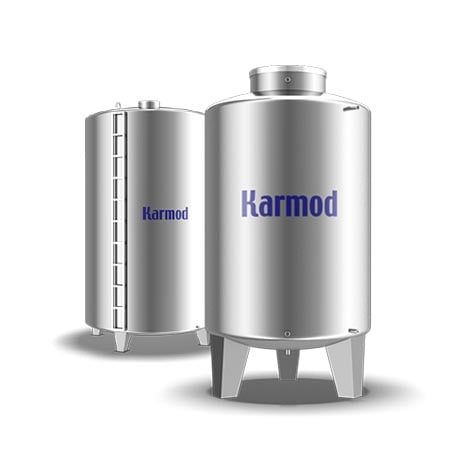 Vertical Stainless Water Tank as Assistance of Food, Chemistry and Industry Facilities
Karmod vertical stainless steel tank that is extremely safe against corrosion and moss formations, is a part of production from food to chemistry and industry. With its safe storage advantages, it is an important assistance in storing substances such as milk, olive oil and glucose syrup, in production facilities. Storage tanks are manufactured by Karmod that is the leader brand since 1986. Karmod realized its modern designs by using materials in AISI 304 stainless steel class.
Argon-arc welding is used in connection points, it is subjected to quality control processes including permeability test after production. Karmod vertical stainless water tank is produced with ISO quality standard, it is within brand guarantee scope after sales with its long-lasting and safe usage priority. Our stainless steel vertical water tank products are a model preferred utmost in domestic use in addition to industrial use.
Vertical Stainless Steel Tank with Karmod Guarantee From 500 Liters To 30 Tons
Tank production is made in 15 different liters and tonnage as standard in stainless steel vertical water tank models with Karmod expertise and quality assurance. Standard vertical storage tank products are produced beginning from 500 liters to 30 tons capacity. Each model of these tanks is used domestically in addition to various integrated facilities from the smallest good industry to chemistry industry. Stainless steel vertical water tank models are brought together by connecting them side by side for silo style uses in industry production facilities. Different liquid production storages are realized as well as a single product in the same facility in these tanks connected to each other with a special project.
We are working to manufacture the best vertical stainless steel water tank. Furthermore, we try to maintain the price of the vertical stainless steel water tank as low as possible so that everyone can buy them. In line with this, the most important feature we take into account when manufacturing the vertical stainless steel water tank is the durability. Another feature that we take into account is practicality. We can say that these water tanks we manufacture suitable for almost every need are the most practical vertical stainless steel water tanks. That is because, they provide many advantages to its user in terms of storage and transportation. Thus, you'll be saving more in the scope of vertical stainless steel water tank prices thanks to these advantages.
Vertical stainless water tank ensures saving from space in production facilities. With its narrow body raising height, it can practically be used without narrowing space it is placed. Vertical placing also facilitates easy discharge of liquid tanks that is charged and discharged continuously, with the best pressure flow. In the same time, it extremely facilitates general maintenances such as cleaning to be made inside. It can be cleaned easily with practices such as pressurized water.
Vertical Stainless Steel Tank for Water, Milk, Juice, Chemical Acids
Vertical stainless steel tank has function of being used in various areas from storing water to conservation of food and different chemicals. Stainless steel vertical water tanks are especially preferred in the safe storage and preservation of potable clean water in residences and homes as well as production facilities. Vertical stainless water tank is used in almost all facilities, mainly milk and juice production facilities in food sector.
There are many areas where stainless steel tanks are used due to their safe storage characteristics for foods. Olive oil, oil, liaisons, food protective, special mixtures, molasses, vinegar, chocolate, glucose and food acids take place amongst these foods. Vertical stainless steel tank products are used for safe usage of many chemicals needed in industrial production. Petroleum products such as diesel fuel, mainly acids, liquid active substance used in medicine production industry and additive agents are safely protected in these special tanks.
Expertise Applications of Stainless Steel Vertical Water Tank
We indicated that AISI 304 steel material is used for food safety in production of steel system storage tanks produced in Karmod quality standard. In some special preferences, production is made also by using stainless steel materials in AISI 316 standard. Argon-arc welding used in connection points, is performed safely with Karmod expertise. Unsafe economic application types are completely avoided.
Although vertical stainless steel water tanks are generally used for storing medicine and nutriments because of the materials it's made of, they also work really well in storing chemicals. Because they are the most useful stainless steel vertical water tanks, they are among the tanks with the highest operating temperature. On the other hand, they are known as the highest quality vertical water tanks because despite this quality, vertical stainless steel tank prices remain quite affordable.
Production can be made with assembly in place for stainless steel vertical water tank in narrow spaces such as basement floor, inside of buildings or roofs. In the production system of stainless steel water tanks, the production of main parts are prepared in Karmod modern facilities as disassembled. Afterwards, it is dispatched to area of use with its mounting plan. Vertical stainless steel tank is made ready to use with parts connected to each other by Karmod expert team.
Stainless steel tanks are manufactured as suitable to underground storage conditions, they can be used as embedded underground where it is needed. For healthy use of tank in this case, it is required to prepare a special concrete or steel framework system is need to be made on its ground. Our stainless steel vertical water tank models that their elevation is height and with 15 -30 ton capacities, includes a ladder to access on the tank.
Just like vertical water tank options, horizontal stainless steel water tank options are found to be quite appealing by the users. We can say that, one of the reasons for this is that, just like vertical water tank prices, the price of these tanks are quite affordable as well. Just like in vertical water tanks, these tanks can provide their user advantages in terms of space and transference thanks to their horizontal design.
Technical Characteristics and Benefits of Vertical Stainless Water Tank
In production of Karmod Vertical Stainless Water Tank models, stainless steel sheet in AISI 304 and optionally 316 quality standards, is used, it contains suitable characteristic to store food.
It is safely used for storing staff from food to chemical liquid, mainly milk as well as potable water.
It has resistance against corrosion and rust formation.
It has smooth and slippery surface and its maintenance and cleaning are very easy.
Its permeability tests are performed and it is under Karmod quality assurance.
Steel tanks contain hydrophone connections together with discharge and level indicator exits.
It has a wide manhole for tank cleaning and similar processes.
There is a special ladder system in high stainless steel vertical water tank models.
It has a characteristic suitable for connection between tanks to use more than one tank together.
Production is made in demanded tonnage capacity in 500 liters and 30 tons interval.
Production can be made together with mixer.
Assembly tank production is made in place specific for places with narrow entrance.
FAQ
How often should I clean my vertical stainless steel water tank?
If the tank is used for storing food, it should be cleaned after each use. At worst, it should be cleaned twice a year. When cleaning, it is recommended to use organic-based cleaners instead of perfumed or heavy chemical cleaners.
Do vertical stainless steel water tanks allow harmful rays to pass through?
Our storage products made of stainless steel are insulators and do not allow any light to enter the tank.
Which vertical stainless steel water tank should I prefer?
When making a tank selection, you should consider your needs and usage requirements in terms of size and design. To find the most suitable tank for you more quickly, you can consult our customer representatives.
How can I connect my vertical stainless steel water tank to my home?
You can connect the tank to your home plumbing system using the flange part located on the tank. The flange is compatible with almost all types of faucets. It can also be installed in an independent plumbing system.