Karmod expertise in Industrial Square Stainless Tank solutions
Karmod, with its leadership in storage tank sector since 1986 till today, provides Prismatic Stainless Water Tank solutions up to 100 thousand liters tonnage in its stainless product range. Karmod facilitates storing clean water with its square stainless tank solutions from mass housings to industry facilities. Long-lasting tank class and quality material uses, safe solutions and special production applications, take place amongst superiorities of Karmod water tanks in general. It eases works for investors with its rectangle stainless steel tank solutions and makes saving from budget.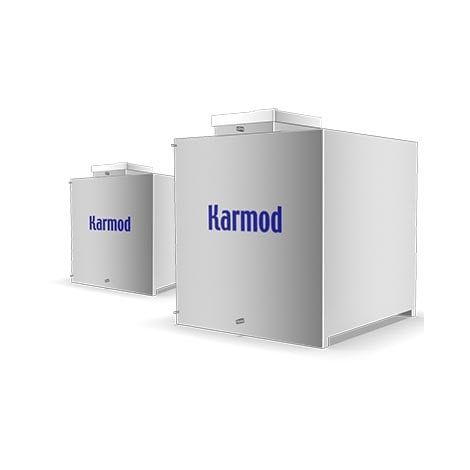 Prismatic Stainless Water Tank with its elegant appearance in anywhere it is placed
Prismatic stainless water tank brings an elegant appearance anywhere it is placed with its rectangle design and bright and smooth surface. It is integrated with location it is placed in storage areas of mass housings or social facility buildings with its modern design and appearance. Most importantly, it ensures a big easiness in storing healthy and clean potable and utility water.
We combine prismatic stainless steel water tank dimensions with flexible design architecture. Most importantly, we provide great convenience in storing healthy, clean drinking and potable water. As an alternative to stainless tanks, you can also choose one of the rectangular plastic water tank types produced using polyethylene raw material.
Prismatic tanks produced using polyethylene raw materials are similar in appearance to prismatic stainless steel water tank dimensions. However, prismatic stainless water tank properties have various advantages over tanks produced from polyethylene raw material.
Square Stainless Steel Tank Solutions meeting Municipality Building Bylaws
Water tanks have an important function in mass housing areas with its integration to fire extinguishing system in addition to meeting water need. Water tanks are needed on condition that they are not below 15 m3, with the purpose of meeting daily utility water and fire extinguishing water need of high-rise buildings determined with municipality bylaws. This storage tank should comply with fire extinguishing criteria in addition to international standards. In the same time, it is required to place a tank complying with required insulation and drainage measures in storage area. With its superiorities such as impermeability, advantage of using for long years without need for maintenance, easy cleaning, health storage, square stainless steel tank has a quality meeting habitation criteria for mass housings.
Square stainless tank with 2 m3 capacity is used for buildings up to 6 apartments as per habitation criteria for houses. For buildings containing more than 6 apartments, storage tank capacity is increased 0,5 m3 for each apartment. Hydrophone should be integrated to the system in areas of use where water transfer mains pressure is below four atmosphere. All of Karmod rectangle stainless steel tank models are produced in full compliance with hydrophone connection system.
In case of housing habitations, there must be a fire cabinet and a fire plug on each floor for building with 5 floors and more together with basement. There must be two of these cabinets in housing areas where a floor size is above 800 m2. For each of these fire plugs, it is required to prepare one fire tank that has not less than 400 liters capacity.
For instance, if there are 10 fire plugs in a building, storage tank with 4 thousand liters capacity should be integrated to the system. These tanks that are insulated, can be placed on basement floor by using stainless steel material apart from carriage system of building, as they can be place in an area of building. For building where a place cannot be found for stainless steel tank that is a legal obligation, it can be used by embedding underground in garden section.
Also, 15 m3 water tank is required for activity areas such as movie and theatre in facilities such as hotel, in-building stores, malls, trade centers and offices. Karmod expertise is with you with its prismatic square stainless tank solutions that is in full compliance with international standards and national additional criteria.
Rectangle Stainless Steel Tank Models from 1000 Liters to 100 Tons Capacity
Prismatic stainless water tank solutions that each of them is produced with Karmod expertise, are produced in 19 models as standard. Prismatic stainless steel water tank dimensions vary in each model. For your storage tanks need with special production except these ones, we recommend you to obtain information from our company. For our storage tanks with capacities from 8 thousand liters to 100 tons, a ladder system is applied as standard for easy access to its upper cover section.
Our rectangular stainless steel water tank models of different sizes offer the best solution from detached housing to mass housing sites where thousands of people live. Our stainless storage solutions are preferred for drinking and potable water as well as fire water in buildings. Steel tanks are also used for rainwater harvesting, which is becoming increasingly common today. One of our best solutions for rainwater harvesting is our fiberglass water tank range. suitable for use as rainwater harvesting tank up to 100 tons capacity.
We recommend you to contact with Karmod for many advantages coming into prominence together with its quality, international standards and expert solutions. Our square stainless tank solutions provide a big easiness for safely storing clean and healthy potable and utility water.
Technical Characteristics and Benefits of Prismatic Stainless Water Tank
In production of Karmod Prismatic Stainless Water Tank models, stainless steel sheet in AISI 304 and optionally in 316 quality standards, is used, it has a characteristic complying with food storage.
Chrome tank models are widely used in numerous social facilities such as mass housing, hotels and shopping malls.
It is used for fire-protection water tank, including potable and utility water in housings.
It has resistance against corrosion and rust formation.
It has smooth and slippery surface and its maintenance and cleaning are very easy.
Its permeability tests are performed and it is under Karmod quality assurance.
In the square stainless steel water tank, there are booster connection slots with drain and level indicator outputs.
It has a wide manhole for tank cleaning and similar processes.
There is a special ladder system in vertical stainless tank models with a high height.
It has a characteristic suitable for connection between tanks to use more than one tank together.
Production is performed in desired tonnage capacity beginning from 1000 liters to 100 tons.
Production can be made together with mixer.
Assembly tank production is made in place specific for places with narrow entrance.
FAQ
How often should I clean my prismatic stainless steel tank?
Our storage products with a prismatic design, made of stainless steel, are versatile and can be used for various purposes. The cleaning frequency can be adjusted based on the content stored inside, but we specifically recommend cleaning it after each use, especially when storing food.
Do prismatic stainless steel water tanks allow harmful rays to pass through?
Like all our storage solutions made of stainless steel, our prismatic tank models are highly light-resistant. If the lid is closed, no light can enter.
Which prismatic stainless steel tank should I choose?
Our prismatic tank models are available in various sizes to accommodate different needs. You can choose the one that suits your requirements and the content you will store inside.
How can I connect my prismatic stainless steel tank to my home?
All our storage products come with a flange. You can use the flange to connect the tank to your home plumbing system.