21 Sep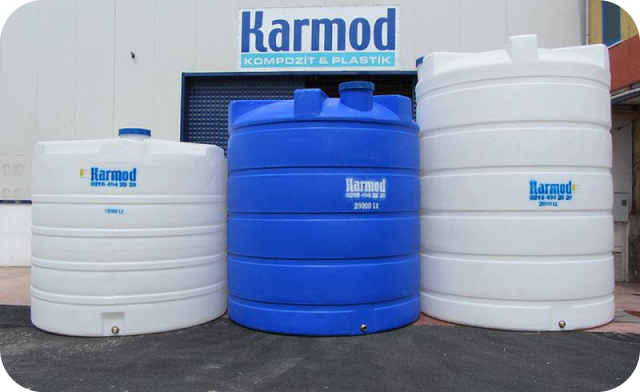 Water tanks are extensively utilized in nearly every corner of our environment nowadays. When we think of water tanks, we immediately envision their use in our homes, for raw material storage in industries, and for transporting certain substances. In a broad sense, these tanks serve as devices for storing liquids, foods, or raw materials, preserving their contents, and enabling controlled usage.
Three indispensable aspects define these tanks: their unique characteristics. Those considering these tanks or already using them often have questions and uncertainties. To address these uncertainties, we have composed this article. So, let's delve into the general features of these tanks together.
What Are the General Characteristics of Water Tanks?
In recent years, these tanks have gained significant attention due to the advantages they offer to users alongside their reasonable prices. They are manufactured using three different materials: polyethylene, polyester, and stainless-steel sheets. To understand the general characteristics of these materials, let's examine each one individually. While they are all produced differently, they share certain common features. First and foremost, you should know that these tanks are covered by a two-year warranty against manufacturing defects provided by our company. Additionally, all tanks are produced in compliance with environmental and management systems. You can verify our certifications on our website.
Here are the general features of these advantageous tanks:
General Characteristics of Polyethylene Water Tanks
These tanks, commonly known as plastic tanks, are produced using a material called polyethylene in the field of chemical science. To elaborate further, these tanks are manufactured using linear low-density polyethylene. The most crucial feature of these tanks is that they are produced as a Monoblock. Monoblock implies a single piece, which means these tanks are produced as single units using state-of-the-art production systems. Hence, they are more durable and have a longer lifespan. These tanks, manufactured using polyethylene, possess the following characteristics:
They can be produced in the color of your choice.
These tanks exhibit high resistance to ultraviolet rays.
They belong to the category of tanks with the most economical price tags.
They are made with high-quality raw materials, without the use of recycled materials or coloring chemicals.
They are the easiest tanks to clean.
They require minimal maintenance.
Their size range starts from 50 liters and can extend up to 25,000 liters.
The tank lids are made of polyethylene material suitable for food contact.
The suitability of polyethylene as a food-grade material is recognized by international food organizations.
After research conducted by the Ministry of Health, this material has been proven to be harmless to health.
Their operational temperature range is between -5 degrees and +50 degrees Celsius. It's recommended to consider the content's temperature when choosing within this range.
Brass sleeves are used to ensure the compatibility of the connection for food-grade purposes.
Sunlight does not enter the tank.
Polyester Water Tank General Features
Perhaps the material with the most misconceptions surrounding it is polyester. In reality, polyester is highly effective for storing chemical substances. In fact, polyester water tanks offer many advantages to their users. The core material of polyester consists of polyester resin and fiberglass, from which polyester pieces are obtained. These pieces are then bonded together with special adhesives to create these tanks. Here are the additional features of these tanks:
Isophthalic and epoxy-based vinyl ester resin are used in cases requiring high chemical resistance. In such instances, the tank can withstand greater acidity. This emphasizes the importance of usage purposes for tanks.
Extremely large volume tanks can be produced.
Tanks ranging from a minimum standard size of 200 liters to a maximum of 100 tons can be manufactured.
With on-site assembly, tanks of any desired size and specifications can be installed.
Custom project designs can be implemented.
High ultraviolet resistance is present.
Operating temperature ranges from -5 degrees to +60 degrees Celsius.
Tanks can be produced in any desired color.
Stainless Steel Water Tank General Features
Tanks made from stainless steel sheets belong to the most robust tank category. This is due to their inherent resistance to rust, corrosion, and high operating temperatures. In terms of material, AISI steel is obtained by mixing chrome and nickel. This steel is then combined using argon welding on segmented parts. These tanks can be produced in cylindrical and prismatic shapes. Additional information about these tanks is as follows:
They are resistant to rust and corrosion.
Custom project design options are available. Simply share your desired project with us.
They can be produced in any desired size.
Size diversity ranges from a minimum capacity of 500 liters to 100,000 liters.
Due to material insulation, they do not allow sunlight to enter.
They have the highest operating temperature capacity, enduring up to +80 degrees Celsius.
As size increases, ladders are added to the design to reach the lid area.
All designs include stainless steel feet.
They are easy to clean.
Maintenance is minimal.
Although their original color is steel-colored, they can be manufactured in any color palette preferred by customers.
They belong to the most durable tank category.
In this article, we have discussed the essential features of tanks. From now on, we recommend considering these features when selecting a tank. If you explain your usage purposes, finding suitable tank options for you will be much easier. For any questions you might have about these tanks and our other products, feel free to contact our customer representatives.