Sodium hypochlorite that is known as caustic acid, is one of the important chemicals irreplaceable from food to medicine, from cleaning to energy, extracting aluminum ore and water treatment industry. Storing sodium hypochlorite that has such an importance for industry, is one of the most important subject. If caustic acid is not stored in a special and health environment, it loses its function in industry in a considerable level. For this reason, Karmod produces polyester sodium hypochlorite tanks with its expertise in storage tanks and offers them to industry.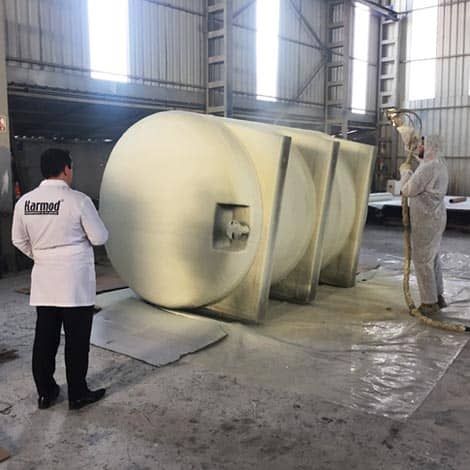 Sodium hypochlorite tanks requires safe storage
Caustic acid should be stored in closed packages for not to lose its function. In its storage, mainly polyester tanks and stainless steel and plastic tanks are used. However, amongst these ones, polyester tanks come into prominence with their safe storage system, long lasting endurance and advantageous prices of FRP sodium hypochlorite tanks. For this reason, polyester tanks are the most preferred models for caustic acid storage. The polyester tan provides dryness by keeping sodium hypochlorite away from moisture.
It facilitate ventilation needed by chemicals in the best manner. It ensures disconnection of other substances with water. With its safe maintenance, it interrupts contact of chemical with metal alloy, copper, lead, zinc-like substances available in production sites. In this point, due to corrosive effect of sodium hypochlorite on other metals, it is beneficial to stress its possible damage on other metals.
Karmod polyester sodium hypochlorite tanks are produced by reinforcement of the main material polyester with fiber glass additions. These special polyester tanks are reinforced with extra layers in production for caustic acid use. The polyester tank removes perforation risk with its high impact strength and completely removes contact of sodium hypochlorite with water. With its UV sun ray conversation, it protects caustic acid from hot contact.
The polyester tanks are also used for storage of sodium hypochlorite liquid and dichloride-isocyanate chemicals with sodium hypochlorite. Karmod FRP sodium hypochlorite tanks reinforced with fiberglass resin, are reinforced with awareness of the best protection of the material to be placed inside. It protects sodium hypochlorite that it will maintain inside, from heavy metals in terms of hypochlorite, thermal factors, light and pollution and it provides the best storage solution.
How is polyester sodium hypochlorite be used in sectors?
Pharmaceutical production and modern medicine, energy production, water treatment facilities, food production sector, wood and paper production facilities, aluminum mining extraction operations and various industrial production facilities need hypochlorite substance. For this reason, Karmod provides support with its FRP sodium hypochlorite tanks to many production facilities that come to the forefront in industry. It provides a big contribution to make that industrial facilities makes saving from their budget by meeting them with its safe polyester storage tanks. It facilitates their works by projecting and producing its chemical liquid tanks with its knowledge.
Leading sectors where Karmod polyester hypochlorite tanks are used, are facilities producing cleaning and disinfestation products. Caustic acid is used in production of various detergents mainly soap that we use often at home and industry for cleaning. In the same time, this substance is a chemical ensuring easy clean of oil and organic dirt in pipelines. It is also used for cleaning sewage lines, washbasins and treatment facility systems.
Pharmaceutical production facilities take place amongst where caustic acid tanks are used. In this sector, sodium hypochlorite is preferred in manufacturing pharmaceutical products used for diagnosis and treatment for humans with regard to prevention of diseases, in addition to pharmaceutical manufacturing.
Caustic acid is used as required chemical in fuel cell production especially in energy sector. Sodium hypochlorite is needed in manufacturing exposed resin of wind turbines that is an important factor in alternative energy production. For this reason, energy facilities take amongst sectors that need sodium hypochlorite storage tanks.
Sodium hypochlorite takes place amongst irreplaceable chemicals for water treatment facilities. Caustic acid is used for controlling acidity in water and removing heavy metals in water. Caustic acid is also a good water disinfectant. It extremely eases cleaning water treatment equipment. Sodium hypochlorite storage tanks are intensively used in water stilling and treatment facilities in city central water distribution mains.
Caustic acid is used in curing process of olive-live food staff in food sector. Caustic acid also helps in easy peeling of fruit and vegetable shells such as tomato and potato in canning process. It helps prevention of bacteria and moss-like undesired occurrences on foods. Caustic acid is used from olive to chocolate, from cacao processing to beverage and ice-cream production. It facilitates production of almost all products in food sector up including milk production by using polyester sodium hypochlorite storage tanks.
Sodium hypochlorites are safely stored by using polyester sodium hypochlorite storage tanks in many facilities such as wood and paper production facilities, aluminum ore extraction and processing facilities, bleaching in textile and processing cotton fabric.