When looked at the general purpose of use of the underground water tank models, we can see that they are tools that allows to preserve and store a liquid, nutriment or chemical substance and drain down the contents whenever needed. In addition, large volume water tanks can be produced. In this way, in this way, tank production can be made in any desired size. In addition, the prices of underground water tanks have been determined by considering the budgets of the people who wants to purchase these tanks. These tanks fall under the category of the most useful and highest-quality underground storage tanks.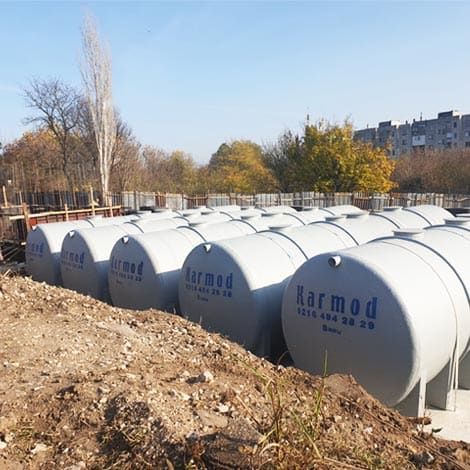 Have the Edge on Every Aspect with Fiberglass Underground Water Tank
Facilitating the storage of utility water, especially drinking water, in different areas the underground water tank models brings storage solutions peculiar to various usage points. The fact that it can be used by being placed underground makes the fiberglass underground storage tanks much more attractive. While you can save space thanks to this feature especially in industrial facilities, the polyester storage tank becomes an invisible actor in the continuity of the green fields by being placed under the planted area in the city landscape architecture.
In addition to water, underground water tank models are used safely in the industry for the storage of oil and special chemicals. They have an important function not only in drinking water, utility water, agricultural and landscape areas, but also in fire-fighting water storage in industrial manufacturing facilities. At the same time, the FRP underground water tank is among the most preferred storage models with its durability and strength in rainwater harvesting, without requiring maintenance for many years. Polyester storage tanks, which can be produced up to 100.000 liters, can be transported easily to the desired areas of use by being loaded on semi-trailer trucks.
Customized projects are made for large-volume storage needs (which are more than 100-tons), and 100-ton fiberglass underground storage tanks are placed side by side and brought into use by parallel connection to each other. Large hotel chains and sports facilities especially prefer large volume water tank options. The fiberglass tanks, which are placed in the garden or parking areas of the hotels, can be brought into use without occupying any space on the ground surface. Underground polyester storage tanks are especially preferred for feeding and disinfecting swimming pools together with the general utility water of the hotels, and fire-fighting water needs.
FRP Underground Storage Tanks, Safe and Long-Lasting System
Being produced with Karmod's production technology and expertise, the FRP underground water tanks stand out with their superiority in long-lasting use and safety. The operation of the system is quite practical in terms of the features of the underground water tanks. These FRP underground water tanks, specially developed considering the underground usage conditions, have been subjected to impact and pressure tests in R&D studies. During the test phase, they were kept under the ground with intense activity for a year and passed these tests successfully. During the test, the reaction and resistance of the storage tank was monitored by driving trucks, earth-moving machines and cranes over the area where it was placed under. As a conclusion of the tests, the durability and reliability of the underground polyester tanks were revealed.
It is aimed that the fiberglass underground storage tank will be in use for years without any problems, decay and wear when it is used under the ground. For this purpose, underground polyester storage tanks, shaped in R&D processes, have been strengthened with the special applications unique to Karmod during the production phase. Polyester resins are processed in layers with glass-fiber reinforcements and are produced specially for the harshest conditions of the underground. Karmod fiberglass underground storage tank, which has a special strength, can be used safely for many years with the best performance even under the ground where there is heavy traffic of the vehicles. Please contact us for your underground storage tank requirements for the places where vehicular and pedestrian traffic takes place.
Fiberglass Underground Storage Tanks Special for Rainwater Harvesting
In recent years, our world has been faced with an important climate change problem due to the global warming. Natural water resources are decreasing day by day due to the consumption brought by the rapid population increase or transportation becomes much more difficult. At this point, it becomes extremely important to collect and use rainwater in order to fulfill the increasing water needs.
Karmod has produced rainwater harvesting storage tanks with the use of underground polyester tank models, making the collection of rainwater much easier. Karmod has developed and brought into use underground rainwater storage tanks in residential gardens, collective housing living quarters, parks, gardens, football grounds, hotels, hospitals, schools and industrial production facilities.
The operation of the system is very practical in terms of underground water tank features. Ventilation pipe, cleaning & maintenance manhole cover, inlet and outlet fittings are fixed on the FRP underground water tanks. The water collected from rain spouts and canals is directed to the system which is specially developed for rainwater harvesting. After collected in a pre-filtration and sedimentation tank and the foreign material is separated, the water is transferred to the rainwater storage tank. The rainwater harvesting tank is integrated with water booster and similar pump systems and the collected rain water is used for irrigation of the gardens or for grey water requirements of the buildings when it is required. Parks and gardens, football grounds and factories enjoy the budget savings of free water storage and use thanks to this system.
Fiberglass Underground Tanks from Fire-Fighting Water Storage to Petroleum Storage
As it is emphasized above, underground polyester storage tanks have many prominent usage areas. Along with their budget advantage, fiberglass underground tanks constantly provide businesses the advantage of using without maintenance for many years.
When we examine the underground water tanks in terms of properties, they can also store substances that require high chemical resistance. Besides this, there are also horizontal FRP water tank options that look a lot like these tanks. These tanks are much loved by their users because of their design and affordable prices. Thanks to the many advantages they provide, underground water tank prices remain affordable. That is why Karmod Plastik presents the highest-quality water tank options to its clients.
By using underground FRP storage tanks, factories come up with the best solution for fire-fighting water storage, which is a legal requirement in industrial production facilities, in the best way possible with very little budgets. Depending on the size of the factory, they experience the convenience of having the necessary fire-fighting water storage tanks made with fiberglass reinforced plastic material, ranging from 5 tons to 100 tons.
Because of their features, underground water tanks are much loved by their users because of their affordability and usefulness. Use Karmod's fiberglass underground storage tanks, for storage of various liquids from petroleum products such as diesel and gasoline to special chemicals, from drinking water to utility water, and enjoy the comfort.