Offering excellent quality fiberglass horizontal storage tanks along with a comprehensive before and after sales technical support, Karmod's primary goal is always to maintain customer satisfaction. In this sense, we do not only manufacture the best quality fiberglass tanks, but also provide engineering services and technical assistance from the designation to the completion of projects about storage of various liquids.
Karmod, the leading GRP storage tank manufacturer, ensures ideal options to the users for storage of any kind of liquids, manufacturing an extensive range of GRP horizontal water tanks using the proven Karmod composite technology and offering capacities from 200 liters up to 100000 liters. Our FRP horizontal storage tanks come with a cylindrical form having cambers at both ends and feet on the body. The diameter of our fiberglass horizontal cylindrical tanks range from 65 cm up to 300 cm and they are ideal for aboveground and underground applications.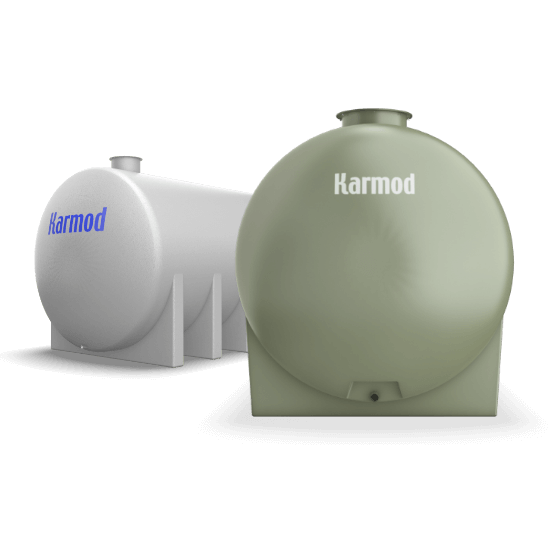 Corrosion-resistant & durable, Karmod's fiberglass horizontal storage tanks are manufactured from the best quality fiberglass reinforced thermoset resins. They are not used only for water storage but also for storage of various chemicals such as acids, hypochlorite or some petrolium derivative liquids such as diesel, fuel-oil, kerosene, gasoline etc.
There are numerous manufacturers of fiberglass water storage tanks but manufacturing horizontal GRP chemical storage tanks requires an extensive knowledge and experience. Chemical substances are generally highly corrosive material. The resin to be used in production of a GRP tank differs according to the type of liquid to be kept inside the tank. Karmod's qualified technicians approach these type of projects on case by case basis and they utilize some special purpose isophtalic or vinylester resins in the production process of GRP chemical storage tanks. In some projects only the inner layers of the tank are made with vinylester resins whereas some projects may necessitate the entire tank wall to be made up of vinylester resin.
Our horizontal GRP storage tanks can be shipped directly from our stocks or can be assembled on-site whereas applicable. All our GRP horizontal water tanks can be used safely at residences, houses, villas, apartments, restaurants, social facilities, sports complexes, agricultural and irrigation systems, potable water delivery systems and for many other purposes.
When the cost-benefit balance is considered, horizontal fiberglass water tanks have lots of superiorities over metallic or concrete tanks:
• Production cost of fiberglass material is lower than both metallic and concrete tanks.
• Transportation of fiberglass tanks is easier and less expensive than the metallic tanks. Even, transportation of fibeglass tanks is not comparable to transportation of concrete tanks because concrete tanks have to be produced on site.
• When some leakages occur on concrete tanks it is costly and generally difficult to provide permanent solutions. However, reparement and maintenance of fiberglass tanks is easier.
• The most important superiority of fiberglass tanks over metallic ones is that metallic tanks are corroded or rusted easily over time. However, fiberglass tanks can be utilized for many years without any corrosion.