When large volume water tanks are mentioned, we think about tanks with seriously large magnitude. That is true. However, high tonnage tank options fall under the most useful and highest-quality high tonnage water tank category. Besides this, horizontal fiberglass water tanks, just like large volume water tank models, provide advantages to their user in terms of price and design. Due to the mounting options in the large volume water tank, the desired large volume water tank models can be installed.
When we look at the general purpose of use of high tonnage water tanks, they are tools that allows to preserve and store a liquid, nutriment, chemical substance or mixtures along with draining down whenever needed. So much so, high tonnage water tank prices that are filled with advantages surprise people. If you are also wondering about large volume water tank prices, you can get an offer right away.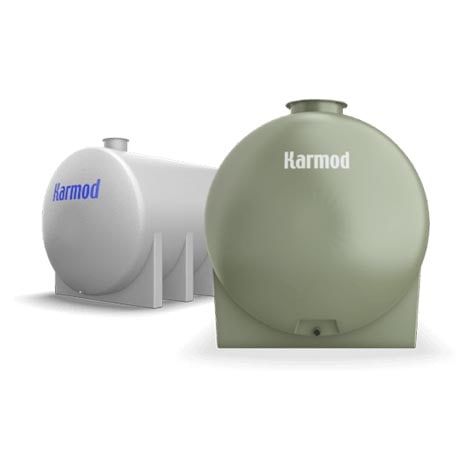 Large Volume Storage Tanks Specific for Industrial Uses
Karmod with its leadership in the water tank sector till today since 1986, produces large volume storage tanks in addition to many other products. Our brand is in the peak of the best production in water tank with 100 tons capacity with its quality and unique superior characteristics. In addition to many tanks produced up to 25 thousand liters from polyethylene and polyester raw material as a standard, it also produces large volume water tanks with special projects. Fiberglass storage tank models is used in production of large volume fiberglass water tanks.
In high tonnage tank options, the most important criterion in special projects that start with 30 and 40 ton water tank sizes are customer usage purposes. Besides large volume water tank prices, when the purpose of the liquid tank is specified, it is planned with Karmod expertise. For instance, while working on a 50 ton high tonnage storage tank, it is required to indicate the purpose of storing when water, petroleum or chemical storage is made. Polyester high tonnage tanks bring solution for potable and utility water storage and for the best and healthy long lasting tank for industrial areas.
Agricultural watering, park, garden and grass pitch watering, utility water and potable water treatment facilities for community facilities such as hotels, can be regarded amongst industrial areas of use. Large volume storage tanks take place amongst the most preferred modes for petroleum product storage. Substances such as gasoline, diesel, gas oil, fuel-oil, oil from petroleum products, are safely used in fiberglass liquid storage tanks. Liquid additives such as acid, textile painting substance and glucose syrup used in foods that are needed in industrial production, are safely stored in large volume liquid storage tanks.
Large Volume Fiberglass Water Tank for Drinking Water Treatment Facilities
All of potable and utility water given to central water mains of cities in today, is met from water collected in dams. Before water accumulated in dams with rain water and water coming from rivers, is given to a central water main of a city, it is required to pass through treatment and stilling stages. Thanks to the affordable high tonnage water tank prices, main purpose of conditioning and purification is to provide qualified, healthy potable water for the people. For this purpose, water is taken from dams and transferred to potable water treatment facilities built for this purpose. In this point, water passed through stilling and treatment stages, is subjected to regular laboratory analyses and given to city water mains with pressure pumps.
High tonnage water tanks are transferred to the high tonnage storage tanks where distribution will be made by passing through the aeration pools in the drinking water treatment plants. Mangan and iron oxidization are made in the stilling pools and dissolved oxygen is increased. During this method, water is purified from the substances making unpleasant smell and taste by ensuring that they are evaporated. After stilling, harmful bacteria disinfection is realized with ozonization and chlorination.
In the large volume storage tank, the water added to the coagulant in the post-aeration process is subjected to mixing and settling, and passed through the sand filters. Sand filtering helps to remove inorganic and organic pollutants from water. The next stage is completed by giving clean and healthy water to the city water mains in a safe manner.
As for large volume water tank models, 50 and 100-ton polyester large volume storage tanks serve a great function in water distribution to city center networks. Based on need of the mains, many of high tonnage water tanks can be lined side by side on the site and a facility for water stilling and distribution can be installed for thousands of tons water. Special filters are placed on storage entry ends. The ozonization and chlorination units are integrated on its exit. Cleaned water is provided to townspeople over the central water mains from polyester high tonnage storages.
Large Volume Fiberglass Water Tank Special for Open and Underground Use
Karmod large volume fiberglass water tanks are produced with expertise by bringing fiberglass special resins with polyester raw material. In production, capacity of the storage tank and water or chemical substance characteristic to be accommodated, become important. Special reinforced layers are prepared for acid-like abrasive chemicals. The main purpose in this method is to maximize endurance of the water storage tank.
High tonnage storage tanks that are produced from 5 thousand liters to 100 tons, are produced specifically for underground usage conditions. It is equipped with long term usage and the best impact endurance performance even under the most challenging conditions. In case of using the underground tanks, sub concrete ground is prepared for length and width of the water tank. Around the underground large volume fiberglass water tank lowered to the ground by a crane, is closed by filling with soil. Entries and exits of the underground storage tanks are manufactured specially for ergonomic of use of ventilation ends.
100 tons large volume fiberglass water tank with interval dimensions such as 30 tons, 40 tons, 50 tons and 60 tons, are the most preferred large volume water tank options for purposes such as rain water storage in underground use and fire water storage. To be the highest-quality high tonnage water tank means advantages such as long years of use without rotting, impact resistance, ease of maintenance and cleaning. These solutions made polyester liquid storage tanks stand out in terms preference. More than that, there are also vertical fiberglass water tank options. These tanks, just like the most useful high tonnage water tank options, are quite useful in terms of design and method of production. To get more information about these tanks that are filled with advantages, please contact our expert customer representative.