22 Sep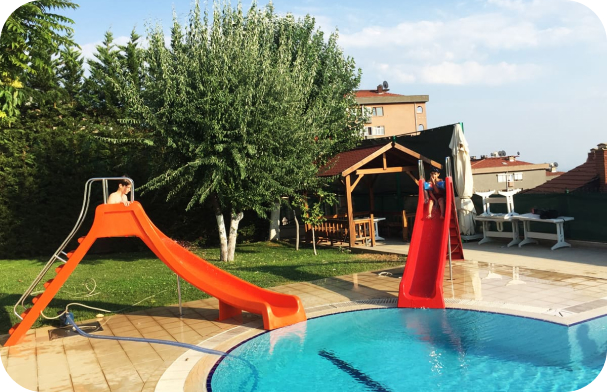 Water slides, which add adrenaline to holidays, are in high demand this summer as well. Hotel owners, who are aware of this, have prepared for the summer by equipping their pools with water slides. Thus, vacationers can enjoy adrenaline in addition to swimming calmly in the pools.
Water slides are not only found in holiday areas. Individuals with pools in their garden can also buy these water slides, also known as pool slides. Water slides, which are affordable for transportation, installation, and price, have become the choice of pool houses, villas, and sites in the new period.
Pool slides provide a great convenience for parents. Because parents who buy a pool slide for their pool have a fun vehicle that children will enjoy a lot. Thus, while children are enjoying themselves in the gardens of their homes and sites, parents do not have to bother taking them to amusement parks.
In metropolitan cities, children's safety is also important. Considering that children are at risk of getting lost or injured in crowded entertainment venues, a pool slide that can be taken directly to the pool in the garden becomes much more meaningful.
In a statement on the matter, Karmod Plastic General Manager Talay Öztürk said, "Karmod water slide is a good choice for our children to have fun safely. This water slide saves parents from the trouble of taking their children out to play. It is a safe and practical entertainment vehicle that is both easy to install and has no risk of accidents."
Karmod Plastic began production of pool slides that can be easily purchased and used immediately for any home, villa, or site with a pool, considering the demand for water slides in entertainment venues.