18 Apr
Stainless steel is a type of metal that is resistant to corrosion and is therefore ideal for storing food, medicine and similar substances. Stainless water tank models have the advantages of being hygienic, easy to clean, preventing the deterioration of substances. It is also long-lasting due to their durability and is a safe place to store substances. In the food industry, stainless steel water tanks prevent food from spoiling, ensuring its long-term storage. In the pharmaceutical industry, however, these water tanks prevent hygienic storage and deterioration of medicines. In general, stainless steel tanks are used for hygienic, durable and long-lasting storage needs.
Stainless steel water tanks in the pharmaceutical industry play a very important role. Medicines should be stored in a hygienic and sterile environment. This is because if the medicines are broken down, their effects are lost or become harmful. Stainless steel water tanks meet this requirement and ensure that medicines are stored hygienically. In addition, stainless steel tanks are easy to clean and provide a protective layer, protecting them from medicine contamination. In addition, since such storage products can cool down quickly, their use in this area is quite common.
How are Stainless Steel Water Tanks Produced?
Water tanks manufactured using stainless steel are a safe place to store medicines and allow storage conditions to be controlled. This prevents the deterioration of medicines by maintaining optimal storage conditions and ensures that the effects of medicines are preserved. As a result, stainless steel tanks are often used in the pharmaceutical industry to meet hygienic, durable, and safe storage needs. These water tanks, which have many advantages, are produced by following the steps below.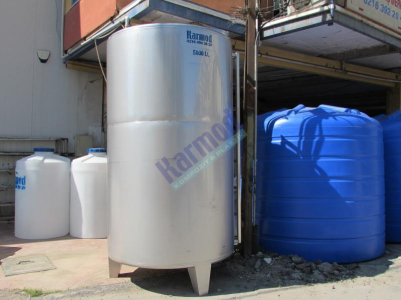 Material Selection
The stainless steel material to be used in the production process is selected and it is ensured that it has the necessary properties. At this stage it is important to find the best quality steel. Because these storage products are functional, they can be used for many purposes.
Production Design
The design is made for the water tank to be produced and the dimensions are determined. But usually the design is obvious. The importance of design is an important stage that determines the amount of material to be used, labor time. For the user, it is important to have a design that can meet their needs.
Metal Cutting
Stainless steel metal parts are cut by design. This stage is usually not done by hand. There are some cutting machines determined in this context. Within the scope of the determined dimensions, regular cutting is carried out. The cut stainless steel metal parts are shaped by machining steps and the necessary additional parts such as caps, pipe connections are added.
Welding
Shaped stainless steel metal parts are joined using welding techniques. During the joining process, argon gas is used. Thus, in the rivet part, the pieces hold on much better. As a matter of fact, not much rivet is made. Welding is carried out as standard from certain points. Thus, the water tank becomes much more robust. All stainless steel metal parts are joined by assembly steps and the tank is formed. Finally, the produced tank is subjected to waterproofing, hermeticism and strength tests and the necessary tests are performed.
The manufactured water tank is packed and safely transported to the necessary places. As a matter of fact, the shipment process can also be done by the brand using the water tank. By following these steps, water tanks are produced using stainless steel.
The Advantage of On-Site Installation in Stainless Steel Water Tanks
These water tanks can be installed at the location of the water tank. This is called on-site assembly. Another storage product with this feature is polyester water tank models. In this context, you can also evaluate the water tanks produced using polyester. Since stainless steel is durable and corrosion resistant, it shows resistance according to the conditions of the location where the tanks are located. Exposure of the location of the water tank to humidity, temperature, sunlight and similar factors can affect the quality of stainless steel tanks, but in general, these tanks will be able to be positioned because they are designed according to where they will be located. In addition, the installation and installation of stainless steel tanks should be carried out by a professional team, which should guarantee its quality and durability.
Other Advantages Found in Stainless Steel Water Tanks
When we examine this raw material, we see that it has many advantages and features. At the beginning of these features is corrosion resistance. As a matter of fact, its name is stainless steel on it. Since stainless steel is resistant to corrosion and oxidation, it is the most ideal material to use as a water tank. It allows the water to be preserved for a long time without deteriorating its quality. In addition, this material is quite hygienic. Stainless steel has a hygienic and sterile surface. It prevents the growth of microorganisms and bacteria that get into the water.
Steel is durable because it is a hard material. Stainless steel is durable and long lasting. It is a material that maintains its quality for years and ensures the freshness of the water in the tank. Even if deliberate intervention is made, it will be difficult to bend and puncture. In addition, these tanks can be cleaned very easily and cleaned without disturbing the quality of the water. You can use water cannon inside. Thus, a thorough cleaning can be ensured. However, we do not recommend the use of perfumed cleaners in such water tanks.
The longevity and easy cleaning of stainless steel water tanks as raw materials provides a long-term cost impact for storage products. In addition, it provides ease of use thanks to its cover structure and design. Stainless steel tanks are easy to use and user-friendly. The level of water in the tank can be easily seen and the tank lid can be easily opened.
Stainless steel water tanks are an environmentally friendly material and do not harm the environment due to the minimal amount of their waste. Because stainless steel has a recyclable material structure. It is also used in the storage of light-sensitive ingredients as it is an insulating material. When you close the lid, no light will enter the interior. Because of these advantages and properties, stainless steel storage products are a popular option to meet the need for safe, hygienic and long-lasting water storage.