01 Sep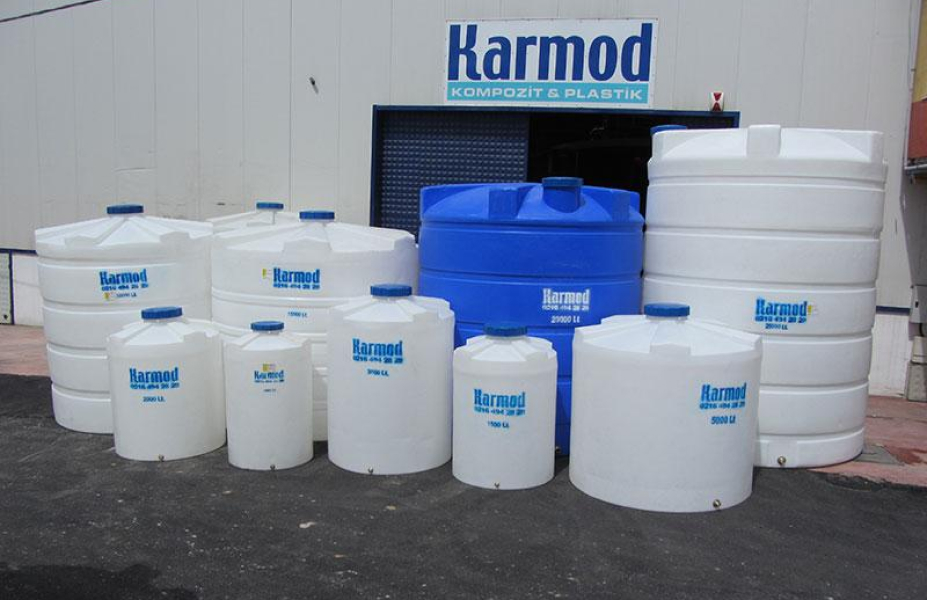 These tanks can be used for various purposes nowadays. They find extensive use both within our country and abroad. Water tank models can be employed in nearly every corner of our homes, as well as in workplaces and industries. Another reason for the popularity of these tanks is their versatility.
In general, the purpose of these tanks is to store either food or chemical substances, protecting them from external factors, facilitating their transportation, and enabling their discharge for use when needed. Tanks can be utilized for various objectives. However, finding the right tank for a particular task can sometimes be challenging. Therefore, it's essential to understand how these tanks are manufactured, along with their general features and advantages.
How Are Water Tanks Manufactured?
Tanks suitable for every need and budget can be produced. These tanks are made from three different materials: polyethylene, polyester, and stainless steel. Tanks produced from materials like ceramics and iron are highly inefficient and can damage the contents. Hence, the production of tanks never employs subpar materials that could compromise quality or cause harm. Furthermore, all tanks come with a two-year warranty against manufacturing defects.
Among the tanks produced, there are certain superiorities and shared characteristics. The most important common feature is their resistance to ultraviolet radiation. If your tanks are damaged due to usage, they can be repaired at our facilities.
General Features of Polyethylene Water Tanks
Contrary to common belief, polyethylene tanks are highly suitable for storing and protecting food and potable substances. Unlike others, these tanks are produced in a Monoblock, or single-piece, design. This manufacturing method not only simplifies cleaning but also enhances durability. The additional features of polyethylene tanks are as follows:
They can be manufactured in any desired color.
They possess high resistance to ultraviolet radiation.
They fall within the category of tanks with the most economical price tag.
These tanks are produced in a single-piece design using state-of-the-art manufacturing systems.
They are long-lasting and durable.
Cleaning can be easily carried out.
They have a longer lifespan due to the absence of any additional attachments or rivets.
Size variation ranges from 50 liters to 25,000 liters.
The operational temperature ranges from -5 degrees to +50 degrees Celsius.
Manufactured in compliance with environmental and health management systems.
Tank lids are made from polyethylene with a screw system for food compatibility.
Brass sleeves are used in the sleeve section to ensure food compatibility.
General Features of Polyester Water Tanks
Polyester tanks are the tanks with the highest level of chemical resistance. These tanks are essentially formed by mixing polyester resin with fiberglass. The resulting material is used to manufacture plastic water tanks using special adhesives. When a situation requires high chemical resistance, isophthalic and epoxy-based vinyl ester resin is used during production. Other features of polyester tanks are as follows:
Can adapt to situations requiring high chemical resistance.
Offers on-site assembly advantage.
Has the largest volume tank models.
Volume variations range from 200 liters to 100,000 liters.
Production can be done in any color.
Custom project design is possible.
UV ray protection is present.
Operating temperature ranges from -5 degrees to +60 degrees Celsius.
General Features of Stainless-Steel Water Tanks
These tanks belong to the most robust tank category. This is due to the nature of the material, which is insulating, hard, and difficult to break or bend. Moreover, these tanks are quite heavy but can store almost anything. Other features of stainless-steel tanks are as follows:
These tanks do not rust or corrode when operating with water.
Offers on-site assembly advantage.
Custom project design allows production in any desired size.
Steel's insulating property provides UV ray resistance.
Operating temperature ranges up to +80 degrees Celsius, making them the highest temperature-resistant tanks. This value is quite close to the boiling point.
With increasing size, ladder support is added to the tank design.
All designs include stainless steel feet.
Belongs to the most durable tank category.
Size variations range from 500 liters to 100,000 liters.
Cleaning is quite easy.
Requires minimal maintenance.
Production in any color palette makes categorizing contents easy.
With these features, you can easily find the water tank that suits your usage style. However, if you still can't find a tank suitable for your working conditions, you can contact us, explain your usage purpose, and receive suitable tank recommendations. If you want information about our other storage products, you can discuss it with our customer representatives.