18 Jul
Polyethylene water tanks are used for storing and preserving water, acids, fuel, and various chemicals for both short and long durations. These tanks are primarily designed for water storage and are available in different types and sizes. Starting from 50 liters and going up to 25,000 liters in capacity, polyethylene water tanks are widely used in manufacturing industries with varying pressure requirements. They are manufactured to be footed or flat-bottomed (non-footed) based on the specific storage needs.
The high-density polyethylene material used in production, along with special manufacturing techniques, allows for the creation of diverse tank models. By utilizing rotational molding technology, these tanks can be constructed with up to three layers of different materials, ensuring high-pressure and impact resistance.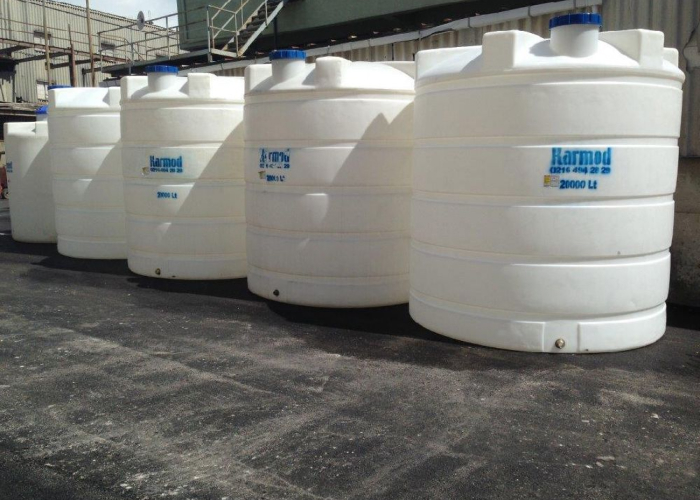 Polyethylene Vertical Water Tanks
Polyethylene vertical water tanks are flat-bottomed tanks without feet. These tanks are commonly produced in standard white or blue colors, but custom colors can be manufactured to meet specific customer and application requirements. Vertical tanks intended for water storage are produced using standard manufacturing techniques and material ratios. However, for tanks used to store acids, fuel, or other chemicals, special reinforcements and a higher proportion of materials are used to ensure enhanced durability. Ranging from 50 to 25,000 liters in capacity, polyethylene vertical water tanks are designed in a cylindrical shape and can be produced in various capacities with the help of custom mold designs. As a customer-centric company, "Karmod Plastics" can create new mold designs to accommodate bulk orders and meet unique customer preferences.
Polyethylene Horizontal Water Tank Models
Our polyethylene horizontal water tanks, available in cylindrical and horizontal models, are ideal for enclosed spaces with low height due to their footed structure. These tanks are suitable for storing water in areas such as rooftops and basements, where the height does not exceed the average human height. This makes them easily fit into standard indoor spaces. The horizontal water tank models, commonly preferred for indoor applications, are produced in various sizes. We can manufacture tanks ranging from 100 liters to 5,000 liters as standard. You can choose from different models of polyethylene horizontal water tanks that best suit the entry width of your designated indoor space or take advantage of our custom manufacturing solutions with mold designs tailored to your specific needs.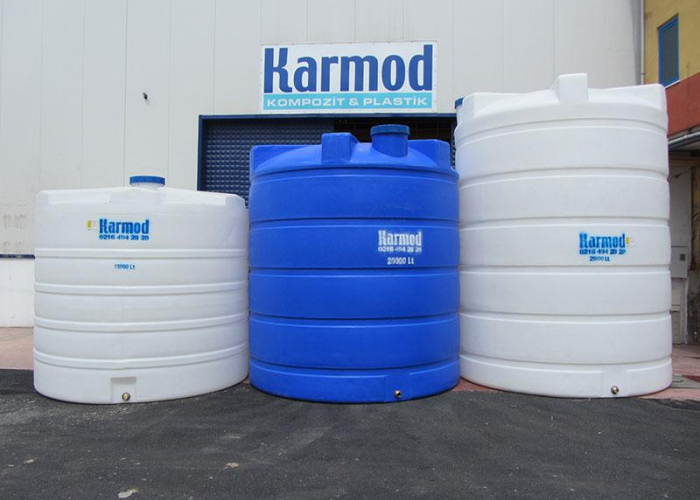 Especially suitable for household use, rectangular polyethylene water tank models are produced up to a capacity of 500 liters. Rectangular water tanks, which are commonly used for small-scale applications, are widely preferred in polyethylene water tank usage due to their easy accessibility and suitability for normal individual use. Our rectangular tanks, which are produced with a footless flat base and have a portable structure, can be easily transported to different areas, including vehicle trunks, whenever you need them. Our rectangular tanks, which have a rectangular shape and can be used in your garden, home, vehicle trunks, or caravan interiors, are mainly suitable for water storage needs.
How Should I Choose Polyethylene Water Tank Models?
Water is an essential resource in human life. We meet our water needs in different areas such as drinking water or utility water. For the storage of clean drinking water, it is important to use healthy storage solutions. There are various alternatives available to preserve clean water. In such important situations, we use 20-liter capacity PET bottles or water containers to meet our short-term water needs. However, in cases where we need to store water at higher capacities, our company, which is a leading brand in Turkey and produces water storage solutions to international standards, offers solutions with water tanks of various sizes ranging from 50 liters to 100,000 liters (100 tons).
Liquid tanks are produced using different raw materials or materials for water storage. In our industry, water tanks are manufactured using various materials such as polyethylene, polyester, stainless steel, and galvanized. However, the most reliable water tanks for storing clean drinking water are polyethylene water tanks produced using polyethylene raw material. Polyethylene water tanks are also referred to as plastic water tanks or plastic water containers in our industry.
Types of Polyethylene Above-Ground Water Tanks
We manufacture vertical, horizontal, or rectangular water tanks in cylindrical and angular shapes. Regardless of their size, all our water tank models are manufactured in compliance with industry standards and regulations. Our water tanks, produced using LLDPE polyethylene raw material, are manufactured with specially designed molds for each product. With our tanks that have high resistance to UV rays, you can use them in any desired area without any problems, whether it is an open or closed space.
Types of Underground Polyethylene Water Tanks
The most preferred types of underground storage tanks include water tanks, fuel tanks, waste material tanks, and chemical liquid tanks. Polyethylene underground storage tanks are available in models with capacities of 2 tons and 5 tons, allowing you to fulfill your high-volume liquid storage needs. For storage solutions with even higher capacities, you can explore the polyester underground tanks manufactured by our company. Our tank models are popular choices for social facilities, tourist establishments, industrial plants, factories, gas stations, agricultural areas, military installations, and locations with high water consumption. The greatest advantage of these tanks is their underground installation, which eliminates the need for surface area. Therefore, underground water tanks are among the top preferences for rainwater storage, a practice that has gained significant attention from our government in recent times. Our underground water tanks offer storage capabilities for various types of liquids and are particularly favored as water storage tanks in rainwater harvesting systems.
Types of Reinforced or Layered Polyethylene Water Tanks
All our polyethylene water tanks have the option for reinforcement and layered production. The main reason for reinforcing our polyethylene tanks, which are produced using LLDPE raw material, is to enhance their resistance and strength against different chemical liquids. High-density and corrosive liquids require reinforcement through various production techniques. Before purchasing our tanks, you can consult our experienced sales advisors, informing them of the type of liquid you wish to store, to receive assistance in choosing the appropriate tank type and determining the required level of reinforcement.
Features of Polyethylene Water Tank Models
Our water tanks, produced in various models and sizes, have distinguishing features that set them apart from competitors in the industry. Karmod polyethylene storage tanks have higher wall thickness compared to similar products, ensuring high impact resistance even in standard tanks. Our tanks are designed to withstand external impacts, making them more durable in long-term use compared to their counterparts.
Another significant feature of our water tanks is their resistance to late-stage algae growth. Manufactured using European-standard materials and advanced manufacturing technology in the industry, our tanks provide protection against the harmful aspects of UV rays, delaying algae growth within the tank. As a result, they maintain a high level of water preservation.
Karmod Plastik, Turkey's domestic brand, has become a global brand with its water tanks sold in more than 35 countries worldwide. You can quickly reach our call center at 444 55 60 or contact our experienced team 24/7 using the contact information on our communication page.