25 Jul
As summer arrives, we all crave cold beverages, especially chilled water. While the traditional method of cooling water involves placing it in a container and then in the refrigerator, water tanks provide a more convenient solution for keeping your stored water cool. It's worth noting that the refrigerator example illustrates the concept of cooling, applicable not only to water but any content.
Water tanks are versatile and can serve various purposes. They are commonly used to store water collected from rainwater systems or directly from a water source in case of scarcity. Additionally, they are employed for emergency purposes, such as firefighting. Usually, water stored in tanks is utilized for watering plants or cleaning tasks. However, if the water is intended for drinking, it must undergo additional filtration using fine mesh filters.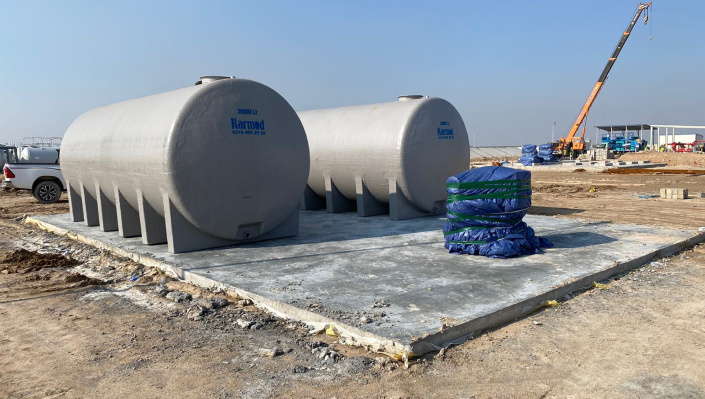 For content that needs to be kept cool but not cold, it is best to store the tank indoors, as the contents will remain at room temperature in a closed area. Alternatively, underground tanks offer another cooling advantage. These tanks feature soil insulation followed by insulation of the raw material, enabling the stored content to remain a few degrees cooler.
Water Tanks: Features and Types
Having explored how to maintain the coolness of water tanks and their contents, it's essential to examine their key features and different types. Water tanks are produced using three primary raw materials: polyethylene, polyester, and stainless steel. These materials have been carefully selected in our previous P&D studies to ensure they do not adversely affect the stored content. Additionally, all our storage products come with a two-year warranty against manufacturing defects, and we also provide repair services for tanks damaged during use.
Polyethylene Water Tanks These tanks are highly popular for food storage due to their food-safe properties. Many users prefer polyethylene tanks for their suitability for storing food. Furthermore, there are polyethylene underground water tank models available. The production of polyethylene tanks involves a one-piece production process, where polyethylene is poured into molds designed for the tanks. Key features of polyethylene tanks include:
• Available in various colors.
• Effective protection against harmful rays.
• Internationally recognized food compatibility.
• Affordably priced.
• Durable and long-lasting.
• Easy to clean and maintain.
• Seamless design, without joints or rivets.
• Capacities ranging from 50 liters to 25,000 liters.
• Operating temperature range of -5 to +50 degrees.
• Manufactured in accordance with environmental and health management systems.
Polyester Water Tanks These tanks find extensive use in industries due to their exceptional chemical resistance. Polyester tanks are crafted using polyester resin and glass fiber. For contents requiring high chemical resistance, we utilize isophthalic and epoxy-based vinyl ester resin in the production process.
Key features of polyester tanks include:
• Excellent chemical resistance.
• On-site assembly capability.
• Suitable for large tonnage storage.
• Capacities ranging from 200 liters to 100,000 liters.
• Available in various colors.
• UV ray protection.
• Operating temperature range of -5 to +60 degrees.
• Easy to transport.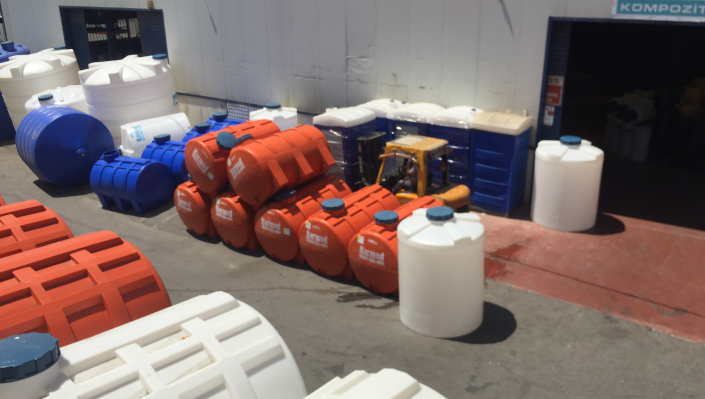 Stainless Water Tanks Stainless tanks fall under the category of the most robust tanks. They are highly resistant to punctures or damages caused by external factors. Additionally, stainless tanks offer the highest operating heat rates. Crafted from a combination of chromium and nickel-mixed steel, these tanks offer several advantages:
• Resistant to corrosion and rust.
• On-site assembly capability.
• Available in customizable sizes.
• Effective insulators against harmful rays.
• Operating temperature of +80 degrees.
• Equipped with ladder support in their designs.
• Equipped with stainless steel legs.
• Capacities ranging from 500 liters to 100,000 liters.
• Easy to clean.
• Available in various colors.
In conclusion, we have covered the ideal location for placing your water tank on your property to ensure cool water consumption. By following the instructions above, you can effectively keep your contents cool. For advantageous water tank options, feel free to contact our customer representatives.