Plastic water tanks have models in different names and various structures. We have a tank named millennium tank that is different than a standard plastic tank but its raw materials is LLDPE polyethylene.
Millennium tank characteristics are not different than a standard one. However, it provides a modern appearance in every area. Millennium tank models are produced with Karmod Plastic quality. A different rib structure is used in this tank that we call a new general tank. Thanks to this, as well as it is more moderns in terms of appearance, it also has a superior structure in terms of durability.
We think of all of your needs while producing the tanks that have various structures and appearances. Our product that we named as pickle tanks comes into prominence amongst the solution we offer. It is an ideal tank for storing all types of foods and pickle and brine processes. It is preferred by big factories with its raw material that is noncarcinogenic and suitable for food and that has inner volume in high capacities and that its body can be cleaned easily and that has a wide-end.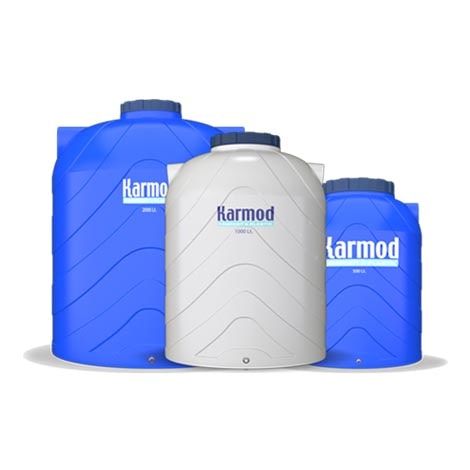 Millennium Water Tank
500 Litre Millennium Water Tank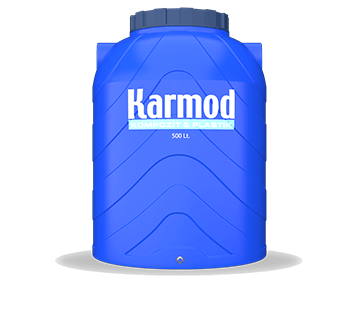 Millennium Water Tank
1.000 Litre Millennium Water Tank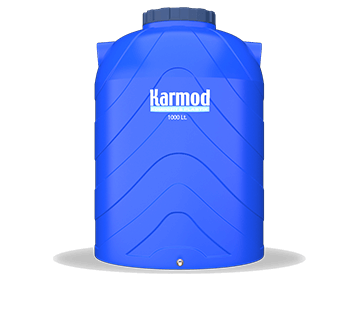 Millennium Water Tank
2.000 Litre Millennium Water Tank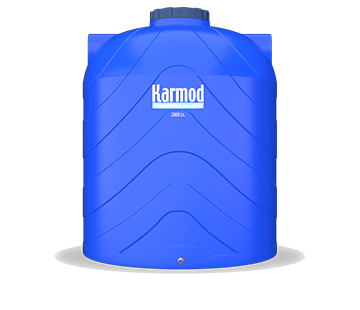 Millennium tank models
We have vertical, horizontal and prismatic water tank models that have various characteristics produced in accordance with your all needs. In these models, we have a product that we named millennium tank with its vertical structure amongst these models. Millennium tank is preferred by many users due to its price and characteristics.
Out tank that has 3 models as standard, is produced in lower and higher capacities in accordance your desire. In case that you will make a collective purchasing with a high volume, millennium tanks dimensions can be prepared with different capacities as soon as possible with our special mould designs and R&D works.
Millennium tank models have 3 different tonnages; 500 liters vertical, 1000 liters vertical and 2000 liters vertical. The smallest produced tank is 500 liters vertical model. This tank is produced with 86 cm width and 106 cm height. Millennium tank is the smallest model in our stocks in terms of dimensions. If your area is suitable and if you need a higher tonnage storage, you can prefer our 1000 liters vertical model. This tank has 106 cm width and 140 cm height. Its material thickness is same with 500 liters model. It is produced with 5 mm wall thickness. Millennium tank models that have the highest capacity, are 2000 liters vertical tanks. It is produced with 140 cm width, 160 cm height and it has a more durable structure with its 6 mm wall thickness.
Millennium tank models are produced in colors that you desire and laminated. It has 2 color options as white and blue as standard. However, if there is a color tone that you want, we can make our productions in this line. The tanks that you will but in different colors, adopt into area where they will be placed in terms of appearance, it also allows you to make categorization process of different liquids to be stored easier. Thanks to this, while making a safe storage, you will not mix liquids in the tanks.
Characteristics of millennium tank
We bring the highest quality and the most suitable millennium tank options together. Characteristics of millennium tank are same with a standard plastic tank. The most important characteristics of that model is its difference in terms of appearance and its outer rib structure. We have various models produced in accordance with every need for your plastic tank needs. We have the tanks produced specifically for your different needs amongst millennium tank models.
The highest quality millennium tank is produced by the best raw material. We, as Karmod Plastic, produce all of our tanks with first quality LLDPE polyethylene raw material that we specifically brought from Europe. The highest quality millennium tanks are produced by using production technics developed by Karmod engineers and with quality of LLDPE polyethylene raw material registered in the world. Thanks to this, you can own the tanks that you can use safely for long years with extra strong endurance characteristics of rib structure on the tank.
LLDPE is the name of raw material in international standards. It is known as linear low-density polyethylene in Turkish. The most important characteristic of this raw material is to be able to use in tank production ensuring possibility to contain liquid and solid food including potable water inside. When you own millennium tank that is the most suitable one with its various characteristics, you also own millennium tank that has the highest quality.
One of the most reasonable solution of ours for storing liquid or solid food, is our tanks that have a conical structure that we produce with stainless foot optionally and with iron foot, that is also known as silo tank. Its upper area has a cylindrical structure just as a standard tank, it is produced conical on its lower side. Thanks to this, it ensures easy evacuation of liquid and solid content in its exit housings taking place on its conical area. It provides a special endurance against impacts and external factors with its special iron foot cage.
A common characteristics of all of our plastic tanks, is to have a general endurance against ultraviolet rays. Especially if our blue tanks will be used in outdoors, it has a special endurance against ultraviolet rays (U.V.) from the sun. Thanks to this, millennium tank models that have additional endurance against ultraviolet rays, ensure a long-term safety against occurrence of moss, mold, dirt and bacteria.
Areas of use of millennium tank
Our storages have opportunity to use easily from individual uses to small sized office and production areas. Our tanks that the biggest one has 2000 liters capacity, are preferred especially for individual houses taking place in summer areas. Besides, our blue colored millennium tank models are preferred by our customers in order to ensure to meet water need in agricultural lands.
Our millennium tank and other tank models can be connected to each other with serial connection. Thanks to this, regardless of capacity, liquid storage area is broadened with bringing a few tanks together. It is also possible to make a use in industrial areas by connection a few tanks together in our millennium models. It is especially preferred by industrial organizations for accommodation of chemical liquids.
Thanks to raw material used in this, millennium tank family provides many advantages for accommodation of many liquids. You can immediately call us for more detailed information.
Prices of millennium tank
We basically indicated characteristics of our tanks that are results of a special work and success. We cannot put an end for their various advantages. You can use our tanks with their endurance and various advantages in every area or condition in safe.
When characteristics and advantages of millennium tank are taken into account, it is seen that it provides the most suitable advantages. Our products that have many characteristics, also provide a privilege in terms of their prices. Many of our customers consider pricing as the most important subject after they inspect characteristics of our tanks. We, Karmod Plastic, work hard with our upmost power to bring quality and cheapness together.
We provide solution for water storage with our cheapest millennium tank options. Prices of millennium tank differ according to capacity that you prefer. You can choose the tank you need, our expert sales consultants make the best pricing for you. You can immediately reach us to obtain detailed information about prices.
FAQ
How should a polyethylene millennium water tank be installed in a specific area?
A millennium tank, with its compact size, can be easily installed in various spaces, making it highly versatile. The installation area should meet the requirements of being clean and secure.
How often should I schedule cleaning for my polyethylene millennium water tank?
To maintain optimal hygiene, it is recommended to clean a millennium tank at least every six months. However, if the tank is used for storing drinking water, consumable goods, or sensitive substances, it is advisable to clean it after each use.
What is the proper way to clean my polyethylene millennium water tank?
Cleaning a millennium tank is a simple process that can be accomplished using water and a brush. The tank's design incorporates easy-to-clean features, allowing cleaning agents to reach all areas effectively. It is important to avoid using heavily scented or harsh chemical cleaners, as they may compromise the safety of the stored contents.
Is it possible to repair my polyethylene millennium water tank?
Our storage products come with a two-year warranty against manufacturing defects, and repairs can be conducted at our production facilities. Our skilled technicians ensure that any necessary repairs are carried out while preserving the integrity of the tank's original design and using suitable raw materials.
How can I connect my polyethylene millennium water tank to my home?
Connecting your millennium tank to your home is a straightforward process. The tank is equipped with a manifold that allows easy connection to standard plumbing fixtures commonly found in households. By connecting the manifold to your home's plumbing system, you can conveniently utilize the tank's contents within your household. Alternatively, if desired, an independent plumbing system can be set up using the manifold connection.
Which polyethylene millennium water tank should I choose?
To make the best choice for a millennium tank, we offer a wide range of sizes to cater to various needs. The ideal tank selection depends on factors such as your specific usage requirements, desired tank capacity, and the type of content you intend to store. Our customer representatives can assist you in finding the most suitable millennium tank for your needs.
Can I store food in my polyethylene millennium water tank?
Absolutely! Millennium tanks are designed to be compatible with storing potable liquids and food items. These tanks are constructed using food-grade polyethylene, a material widely accepted and approved for food storage. Many products that encounter with food are made from polyethylene due to its food-safe properties.
How can I find the polyethylene millennium water tank that suits me or my brand?
Finding the right polyethylene millennium water tank depends on your specific requirements and preferences. We offer a range of options tailored to different industries and applications, considering factors such as your operational principles, storage needs, and the intended use of the tank. Our customer representatives are available to guide you in selecting the ideal tank for your needs.
Does the polyethylene millennium water tank block harmful rays?
Our millennium tanks are crafted using high-quality materials to ensure their durability and functionality. The polyethylene used in these tanks possesses inherent resistance to harmful rays, providing a protective barrier. This feature prevents harmful rays from penetrating the tank and ensures a safe environment for the stored contents. Furthermore, it helps inhibit the growth of algae and bacteria inside the tank.
What materials are used and how are polyethylene millennium water tanks manufactured?
Polyethylene millennium water tanks are manufactured using a process called molding, which involves the use of linear low-density polyethylene. This method allows the tanks to be produced as a single monoblock unit, ensuring structural integrity and longevity. The material thickness varies according to the tank's capacity, with thicker materials used for larger tanks to enhance their strength and durability.