Plastic vertical water storage tanks that are manufactured at Karmod's modern production facilities, can be distinguished from the others easily thanks to their quality, whitishness, brightness and smooth surface. Using the best quality heavy duty polyethylene powder and cutting-edge technology machinery, Karmod manufactures and supplies world-class plastic vertical water tanks to her customers in dozens of countries.
Karmod provides polyethylene vertical storage tanks ranging from 50 litres up to 25000 litres capacity. Our standart vertical water tanks can be used for storage of liquids with density 1,0 g/cc such as water, while plastic vertical industrial tanks can be used for storage of liquids (mostly chemicals such as acidic or basic solutions) with density more that 1,0 g/cc. Wall thickness of such industrial vertical tanks are increased in order to give strength to the tank against inner liquid pressure and generally specially produced fittings are used with these tanks.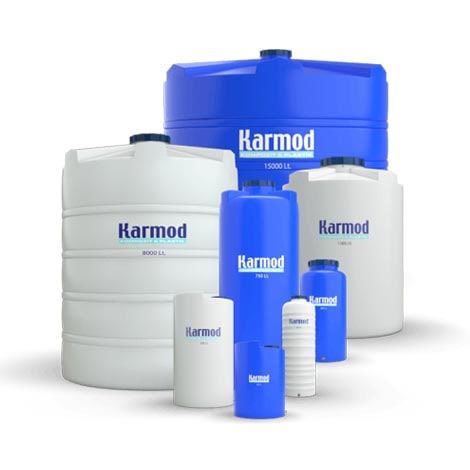 Karmod polyethylene vertical storage tanks are suitable for food storage and they are resistant against most of the chemicals. These tanks are ideal for use in domestic, industrial, commercial or agricultural fields and they can be used for:
• Potable and non-potable water storage
• Diesel storage
• Irrigation or landscaping
• Rain water harvesting
• Chemical storage
When it is required to store water within a residential or industrial building, polyethylene vertical water tanks are the most efficient and convenient solution. Footprints of polyethylene vertical cylindrical tanks are smaller compared to other types of water tanks so that they occupy narrower spaces. They can be placed inside or outside the buildings. Besides that, the round flat bottom of the tank minimizes the risk of leakage. When the customers have doubts about which type of tanks are more suitable for their requirement, our experienced technical team will assist them to select from our extensive range of products.
Statistics indicate that when customers need a vertical water tank, most of them prefer plastic tanks as the ideal material for water storage. Plastic tanks are manufactured from foodgrade, UV stabilised linear low density polyethylene material. They are cost effective, light weight and more durable compared to the metal ones when exposed to the climatic conditions.