Karmod Plastic produces plastic vertical water tank with its long-term experience since 1986 till today. Vertical water tank is used for short or long-term storage processes of all liquid content materials such as chemical liquids, fuel, food liquid and water in general. Vertical water tank models with their body form and lower base fixed well to the ground, can be used almost all types of liquid storage. Plastic vertical water tank models take place amongst the most preferred products of ours within Plastic tanks produced in vertical, horizontal and cornered models in above-ground storage tanks.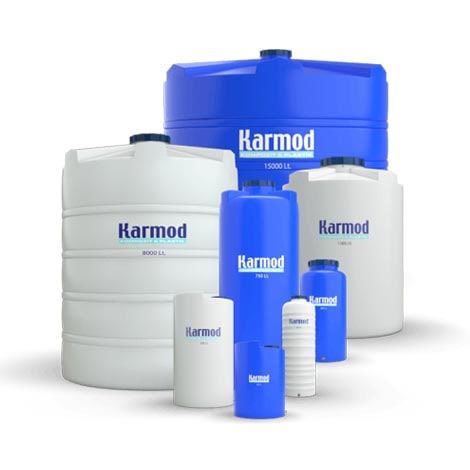 The tanks produced with LLDPE raw materials known as polyethylene, are high quality products. As all types have different areas of use, their liquid materials that they accommodate, can vary. Plastic vertical water tank has an ideal structure to be used generally in outdoors. It is preferred often in areas such as vineyard, garden, field, under building, summer or winter houses. One of the most important reasons of that is to have U.V. stabilization characteristic thanks to its ergonomic body form and materials used. Thanks to U.V. Stabilization in the tanks, it prevents problems in the tanks such as liquid mossiness, breakdown, deformation, dirt accumulation. Thanks to this, it is more advantageous compared to other models such as plastic vertical water tanks.
Plastic horizontal water tanks are also produced in addition to vertical ones. Horizontal tanks are produced from the same material and since its height is lower due to its structure, it also ensures space saving. Horizontal tank is produced beginning from 200 liters capacity, up to 5 tons capacity. In order to ensure space saving, we suggest selecting horizontal tank models instead of plastic vertical water tank models for your high tonnage storage needs.
Prices of Plastic Vertical Water Tank
Water tank production is based on intense labor, effort and experience. We work to produce the best tank as a result of R&D and P&D works. We continuously improve our tanks to ensure the most correct designs and the most ergonomic use advantages. In addition to all these works, we specially work on prices for plastic vertical water tanks that will not push our customers financially. You can make a choice amongst vertical water tanks with our approach for competitive prices for plastic vertical water tanks and quality of our tanks.
You can choose the most suitable one for yourself amongst dimensions of plastic vertical water tanks that have various sizes as Karmod Plastic productions. Price of the water tank that you will choose, varies according to its size, capacity and dimensions. The important thing is for which need the tank will be selected and the dimensions of area of use. Price change in tank selection is based on some conditions. These conditions can be tonnage of a tank, its color, dimension, form, strengthening and additional materials to be attached. Different customizations except this, can form differences within price of vertical water tank.
Plastic Vertical Water Tank Models
We produce various plastic tanks to be used above and below the ground depending on various environmental conditions, areas of use and conditions. The tanks can be used in two different ways based on need. The tanks that we call above-ground or above-soil ones, take place amongst plastic vertical water tank models that can reach the highest tonnages in plastic product group. It provides storage opportunity in high capacities up to 25 tons. The tanks those have high storage capacity, provides big tonnage storage solutions for all types of liquids.
Vertical tank models provide solutions suitable for every need and every sectors such as water, petroleum, fuel, detergent, acid, chocolate, olive oil, liquid oil, etc. You can choose any of vertical water tanks with big tonnage up to 25.000 liters and the smallest vertical water tank models beginning with 50 liters capacity. The more a tank capacity gets bigger, the more its fixed areas such as sizes, forms, entry-exit housings and cover dimensions, can vary.
If it is required to give example over plastic vertical water tank models allowing storage of all types of liquids, the smallest tank of our is vertical water tank with 50 liters capacity, that weights 4 kg, in 54 cm height, 37 cm width and 12 cm cover area. If you choose vertical water tank with 3.000 liters capacity, it has 65 kg weight, 197 cm height, 145 cm width and 44 cm cover. Vertical water tank with 25.000 liters capacity as the biggest tonnage, has 500 kg weight, 355 cm height, 310 cm width and 44 cm cover area of use. From our smallest tank to the biggest one, we have plastic vertical water tank production keeping up with color choice you prefer and having 19 different capacities.
You need and characteristics of vertical water tank have great importance in water tank selection. Besides, vertical tanks are preferred for stocking chemical substances and liquid types such as acid. However, due to the factors such as abrasion characteristic of a liquid to be placed in a tank and its intensity, it is required to produce them with special reinforcements. We can perform different reinforcement ratios up to 100% for a standard tank in Karmod Plastic. Thanks to this, while liquid protection is ensured, we maximize physical life of a tank.
Liquid to be placed should be analyzed well while selecting a tank model and reinforcement ratios should not be less or more than required. If it is needed to give an example, let's say you want to store a fuel derivative in a vertical water tank model. If acidity characteristics of the liquid, it intensity and abrasion factors are solved by making 30% reinforcement for a tank, and when this tank is 70% reinforced, price of that water tank will cost more than what it should be. Physical life of that tank will be longer than normal, however, since it is reinforced more than its normal required value, it will cost more than normal. If it is 10% reinforced, this tank will crack or explode by time and it will cause worse results. For this reason, our expert teams perform the most correct tank selection for you based on liquid type to be stored. In order to reach the most correct result for plastic vertical water tank models, you should prefer Karmod Plastic quality.
Characteristics of Plastic Vertical Water Tank
Intensity and fluidity of liquids vary. Due to the fact that most of liquids have high values, they can easily leak from the smallest crack or split. This factor has a great importance while selecting a plastic tank. Vertical water tank is planned down to the last detail in terms of its characteristics. Before the vertical water tank is produced, all technical analyses are performed, possibilities are calculated, and the best materials are selected with regard to mould and raw materials. It is subjected to challenging test after production stage.
Amongst all products within plastic tank group produced in Karmod Plastic, the vertical water tank provides flexibility in terms of its characteristics. Especially since it is a vertical model, it provides advantage inter of piling and space by lining a few tanks side by side. Besides, since the vertical water tanks have a narrow and long body, when it is wanted to ensure downward flow of liquid by placing it on a high area, it can create pressure inside as a result of its structure and ensures an easy flow of water.
Areas of Use of Plastic Vertical Water Tank
It is the main purpose to store water or liquid in plastic tanks. The storage tanks are used to carry liquid with the pipes to a desired area. Based on a liquid and its area of use, the most correct one should be selected amongst characteristics of vertical water tank. Areas of use plastic vertical water tank is very wide. As we stated before, it provides opportunity to store all types of liquids. These reasons are suitable for personal uses and a wide sector from individual uses to industrial organization uses. You can purchase any tank amongst plastic vertical water tank dimensions and you can easily use it.
FAQ
How should a polyethylene vertical water tank be installed in an area?
Vertical design tanks do not occupy much space in terms of area. If they are to be kept in an enclosed area, a space with a high ceiling should be allocated. If they are to be used on production lines, the necessary adjustments should be made to the area where they will be used.
How often should I have my polyethylene vertical water tank cleaned?
It is recommended to clean a polyethylene tank after each use. These tanks are usually used for storing sensitive substances or food contents. The sediments that remain at the bottom of the tank after each use can decay over time and potentially harm the newly stored content. However, if it is not possible to clean the tank after each use, it is advised to clean it at least every six months.
How can I clean my polyethylene vertical water tank?
You can easily clean a tank with water and a brush. Hoses that can provide pressurized water can easily pass through the tank's throat design, which is specifically designed to facilitate cleaning. It is recommended not to use cleaners that contain strong chemicals or have a strong odor for the safety of the stored contents.
Can repairs be made to my used polyethylene vertical water tank?
All damaged tanks can be repaired by our company. The repair of polyethylene tanks is carried out using polyethylene, ensuring the integrity of the tank's design.
How can I connect my polyethylene vertical water tank to my home?
After placing your vertical tank in a clean and safe area, you need to connect a plumbing fixture to the outlet of the tank. Once you have connected the plumbing fixture to your home's plumbing system, you can use the content inside the tank in your home. Alternatively, some users can connect the tank's outlet to an independent plumbing system to use the content stored in the tank.
Which polyethylene vertical water tank should I choose?
All our storage products are designed and manufactured to provide solutions for various needs. The right tank choice depends on the content you want to store, the required tank capacity, and your usage preferences. To make the best choice quickly, you can consult our customer representatives.
Can I store food in my polyethylene vertical water tank?
Polyethylene tanks are suitable for storing food. Polyethylene is internationally recognized as a food-grade material. In addition, the tank's lids are made of polyethylene, and brass fittings are used in the throat section in the tanks to ensure food compatibility.
How can I find a polyethylene vertical water tank that suits me or my brand?
The most suitable tank selection varies according to your needs. You can contact our customer representatives to find the tank that best suits your working principles and requirements.
Does the polyethylene vertical water tank absorb harmful rays?
All the materials we use in our production facilities are of high quality. No recycled materials or substances that could harm the tank are used. The polyethylene material we use is UV-stabilized, which means that the tanks do not absorb harmful ultraviolet rays. As a result, there is no formation of parasites or algae inside the tanks.
What material and how are polyethylene vertical water tanks manufactured?
These tanks are manufactured using linear low-density polyethylene (LLDPE), which is commonly abbreviated as LLDPE in the chemical industry. They are produced through a monoblock production method. With the monoblock production process, the tanks are manufactured as a single piece using tank molds. This production method ensures that the tanks are seamless and without fasteners, making them more durable.