Karmod's plastic underground water tanks are very strong thanks to their crack-proof, deep ribbed structure in order to enable installations beneath the ground. Having been specialized in rotomoulding for many years and probing the requirements of the users, Karmod manufactures various types of underground plastic tanks to be used in line with the needs of the customers, especially for fresh water storage and waste water storage. Designed with the help of latest version software programs and with years of experience, Karmod polyethylene underground storage tanks are offered to customers after being tested for months under the most severe conditions.
Our plastic underground liquid storage tanks are manufactured with the best quality European origin heavy duty polyethylene. The basic characteristics of this material is its high environmental stress cracking resistance (ESCR) and its high chemical resistance. Thanks to that feature of the raw material, underground polyethylene water tanks provide trouble free service for many years.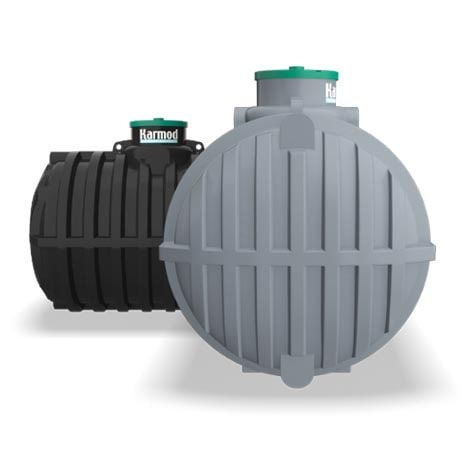 Our underground water tanks are suitable for both domestic and industrial use. You can install Karmod polyethylene underground tanks to almost everywhere; in the garden of your house, at the construction yard of your new building, near the cabin at your cropland where there is no city sewage system or at the garden of your factory where you intend to harvest rain water.
Using an underground water tank provides numerous advanteges such as;
• They are taken into service without spoiling the view of the surrounding areas, being installed beneath the ground's surface.
• They do not occupy any space above the surface of the ground so they provide a space-saving solution to the users and enable them to gain extra space.
• When stored fresh water or potable water inside the tank, the quality of water is ensured because the tank is not exposed to sun light beneath the ground.
• Various fittings such as polyethylene or PVC pipes, stainless steel or brass nipples can be used from an extensive selection of accessories according to the purpose of use.
• Since polyethylene is resistant against acids and bases, these tanks can be used for storage of chemical material as well.
• The tank has a manhole cover which is strong enough to endure the pedestrian traffic on it.
• When the tank is buried under the ground, the manhole cover of the tank stay above the ground level so that it allows the user to check the content inside the tank.
Polyethylene underground water tanks are widely used as fresh water storage tanks, sewage tanks (for storage of waste water), rainwater harvesting tanks, balance tanks, fire-fighting water storage tanks, water cooling tanks, water treatment tanks etc. Besides that, they can be used for storage of petrolium products, liquid chemicals, desalination of seawater etc in engineering, marine, bio-medicine and food industries.
When they are used as rainwater harvesting tanks, filters and some other accessories can be installed onto the tanks to prevent certain material such as debris and leaves from contaminating the water inside the tanks. The water collected in these tanks is generally used for irrigation, landscaping, washing the cars, or as the grey water such as toilet flushing water in the buildings. Besides rain water harvesting, water can be collected into these tanks from other sources such as wells and springs. In this sense, they are suitable for use in all kinds of agricultural, industrial and domestic applications.