Karmod Plastic produces plastic horizontal water tank in different capacities and types for various applications. Our product range of plastic horizontal water tank, varying from 200 liters to 5000 liters in terms of volume, is produced international standards and can be used for all types of storage needs.
While producing horizontal water tank models, LLDPE polyethylene raw material complying with foods, is used. Thus, it ensure a usage in safe both in potable water storage and other liquid foods. Horizontal plastic water tank taking place in portfolio of our company, is offered to our customers in various cylindrical and prismatic types. We have tank productions in different structures named rectangular water tank produced horizontal except cylindrical model. In manufacturing process for the water tanks and plastic horizontal water tank produced in various models in our modern production facilities, the water tank is subjected to ideal heat cooking treatments with rotating mould technology and it is superior than its equivalents with its optimum wall thickness and smooth and bright surfaces.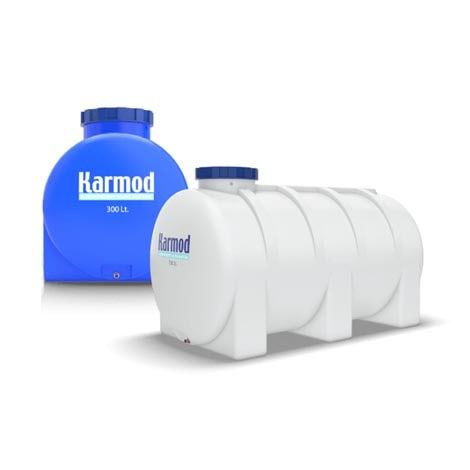 Prices of plastic horizontal water tank will not harm your budget while our tanks containing various characteristics and produced by using first quality raw materials in European standards, provide solution for your liquid storage needs. Plastic horizontal water tank that will be delivered ready to use, is used in safe in your houses, recreation facilities, watering garden and in many areas. You can choose a tank that you need amongst horizontal water tanks with capacities from 200 liters to 5000 liters, and you can receive a price offer quickly over our website.
Prices of plastic horizontal water tank
With our knowledge and experience as a result of our expertise since 1986, we sell plastic tanks in carious interim dimensions from 200 liters to 5000 liters. We have a brand consisting the most models and various product products in this area. While researching prices of plastic horizontal water tanks, you should certainly check Karmod Plastic products.
The service we offer and the quality of our liquid tanks, having guarantee for the tanks we produce and being more affordable compared to other tank solutions come into prominence for prices of plastic horizontal water tank. Our company offers quality assurance in the water tanks produced by the company, for all of its products in all product groups for various sectors.
Purchasing plastic horizontal water tanks that have the best quality and the most advantageous prices, will ease your budget and you will find solution for your long-term liquid storage needs with our product quality. As well as every horizontal water tank models has special capacities and advantages, their prices may differ. Our tanks that have superior quality compared to their equivalents, do not harm your budget thanks to their affordable prices and add value to your works. The more its capacity increases, the more pricing increase although costs of different dimensions of horizontal water tank dimensions are close to each other.
Plastic horizontal water tank models
Plastic horizontal water tank finds solution for your different needs with its area of use and makes your works easier. We have 9 different sizes water tank solutions that we produce in horizontal models. Horizontal water tank is produced specifically for you in its special mould designs in accordance with your needs.
By taking your request into consideration, we produce our water tank productions in different interim dimensions as you desired as a result of intense works of our R&D department. You can also ensure production with different color options in our tanks produced as standard. Our tanks that have different horizontal water tank dimensions and that produced with use of standard LLDPE raw materials, can also be produces by using HDPE (hexane), PP (polypropylene) and XLPE (cross connected polyethylene) raw materials. Each raw materials has its own specific characteristics.
When horizontal water tank is preferred, which liquid you will store and in which area your tank will be accommodated are factors affecting raw material selection. Plastic horizontal water tank models begins from 200 liters capacity and can increase up to 5000 liters capacity. Our tanks that are produced up to 5 tons capacity in standard production, can be produced for higher capacities by making customized mould designs.
Before making mould design, you can create a water tank group in tonnage that you desire by connecting more than one of the tanks with 5 tons capacity side by side in parallel connection method. You can connect the tanks side by side for 50 tons or 100 ton of liquid stocking. If the area where you will place the tank, is suitable for vertical placement, you can also check our vertical water tank models. While making production of horizontal plastic water tank up to 5.000 liters, we have more variations in our productions for plastic vertical water tanks and they can be produced up to 25.000 liters capacity. You can also obtain tanks in capacities you desired with parallel connection in all of plastic vertical water tank models that we produce in the same way.
Characteristics of plastic horizontal water tank
All of our plastic tanks are produced in compliance with different needs. In the same manner, our tanks that are produced by using polyester raw materials and steel sheet, have their distinctive different characteristics. Especially plastic horizontal water tank models have different characteristics from their production process to shipment and from installation process to use.
Plastic horizontal water tank models take place amongst our solutions produced for narrow spaces. Having a narrow space in terms of height where the tank will be places, makes use of area difficult. We provide solution for your liquid storages in every area with our tanks that are depressed in terms of height and long in terms of width.
Thanks to productions made with LLDPE polyethylene raw materials specifically brought from Europe, we produce tanks that are durable, long lasting and that have strong body. Our company using world standards in production technology, use the same special mould for each product. Out durable tanks that are produced by cooking raw materials that have high intensity and UV stabilization characteristics, in special moulds, are used in safe in every area. Another characteristic of our tanks is to have reinforceable body structure and intensity by using raw material.
The tanks that are produced by using raw materials intensively, are processed specifically in special moulds and their wall thickness can be increased. Thanks to this, it is ensured to store various liquids in a safe manner from diesel oil to chemicals, from acid to foods. Our tans that have UV stabilization characteristic, are produced in different colors and minimize harmful effects of sun beams. Thanks to this, our water tank products that have a body that can endure UV rays, provides opportunity to be used for long years in safe. Thanks to dimensions of plastic horizontal water tank, it is easy to transport and change location of products inside. Empty form of horizontal water tank allows desired transportation.
Plastic horizontal water tanks areas of use
Water is an important resource for human life. Storing this resource and using it when it is needed, have great important in a many points. Tank requirement for houses and commercial facilities, arises due to various reasons. The water tank that we produce, is produced by high quality polyethylene material, we have plastic tanks in a form suitable for your all types of liquid storages.
Our tanks produced in horizontal models, can be used for both domestic and commercial purposes in industrial, agriculture and landscape areas for needs such as above or below ground, challenging climate conditions when isolated tanks are required. As well as you can purchase a tank amongst plastic horizontal water tank models, you can prefer vertical or prismatic model products.
In the same time, the tanks produced from 3 different materials thank to production ability of Karmod Plastic Company, can be produced within a single company. If you do not prefer plastic tanks for your needs, you can choose one of our polyester tanks or stainless tank product groups. Besides, you can also obtain repair and maintenance service for horizontal plastic water tanks. Horizontal water tank models that we produce, are mostly used for following needs and areas:
Drinkable water tank
Chemical storage
Waste water storage
Rain water collection
Agricultural storage (watering, landscape, water storage etc.)
Liquid storage in diesel fuel, diesel oil and fuel form
Storing food items
Above indicated ones can be counted. In case that you need recommendation regarding selection of the best water tank type, you can contact with us. Our experienced sales consultant personnel will provide the most correct information to you about our liquid tanks produced from different materials or correct water tank. Thanks to this, you will have the most correct liquid tank with the most affordable costs.
Our product range for the wide water tanks, is suitable for all domestic, agricultural and industrial applications. When dimensions of plastic horizontal water tank are taken into account, you can prefer it for a safe use in many areas including houses, residences, villas, buildings, restaurants, community facilities, sport complexes, agriculture and water systems, potable water distribution and collection systems, penthouses and many others by shipping it directly from our stocks.