Karmod has various types of plastic tanks for various applications. Plastic horizontal water tanks with volumes ranging from 200 Litres to 5000 Litres are manufactured according to the international standards and can be used for all kinds of storage requirements. Foodgrade polyethylene material is used for production of these plastic tanks so that they can be used with safe for potable water storage as well as storage of other food stuffs.
Polyethylene horizontal tanks available in Karmod's product portfolio are offered to the customers in various cylindrical and prismatic types. In the course of manufacturing process, our polyethylene tanks are subjected to ideal thermal cooking operations by rotomoulding technology in our modern manufacturing facilities and they are superior to their counterparts by their optimal wall thickness, smooth and brilliant surface.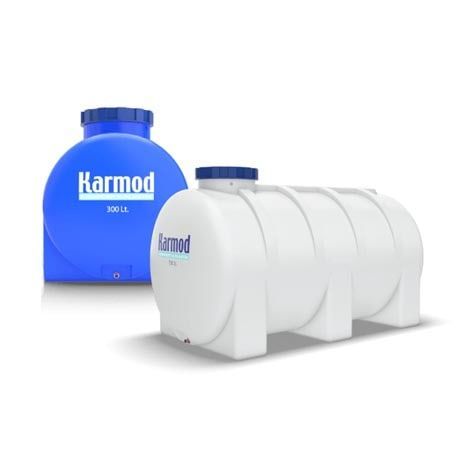 They are manufactured in single piece mould so that they have a monobloc body; there are no welding or rivets. Raw material used in the manufacturing process is UV resistant, recyclable and eco-friendly.
The necessity of a water tank for residential or commercial premises can emerge due to many reasons. Karmod plastic horizontal tanks are manufactured with high quality polyethylene material and we have a suitable type of plastic tank for any kind of storage requirement; for above ground or underground use, for harsh climatic conditions where insulated tanks are required etc. Our tanks can be used for either domestic or commercial purposes in industrial, agricultural and landscaping areas. A few of many purposes of use are:
• Potable water storage
• Chemical storage
• Waste water storage
• Rain water harvesting
• Agricultural storage (irrigation, landscaping etc)
• Diesel storage
• Food stuff storage, etc.
In case that you need advice about the choice of the best type of tank according to your requirements you can contact us. Our experienced staff will assist you choosing the right type of tank. Our wide range of water storage tanks are suitable for all domestic, agricultural and industrial applications. Our polyethylene horizontal water tanks can be shipped directly from our stocks and can be used safely at residences, houses, villas, apartments, restaurants, social facilities, sports complexes, agricultural and irrigation systems, potable water delivery systems and for many other purposes.