Water tanks are produced in different models from each other. These products can be listed vertically, horizontally and prismatically. However, water tanks are produced in different models specifically for various needs. One of these water tanks is the products known as cone bottom storage models with its iron legged structure and the lower base of which is conical.
Since the cone bottom plastic tank has a wide range of uses, it is being purchased by more and more customers every day. It offers a wide range of uses from liquid storage to storage of small size solid food products. with its cone bottom tank features, it is suitable for use in various sectors.
Water tanks are produced in various capacities and sizes. Each of them has a conical structure. With its conical structure, it is easy to fill liquid or solid food into the tank. Just like filling process, the emptying process of the product in it can be done in a simple way. Thanks to the cone bottom plastic storages tank, you can store the products you want simply and quickly.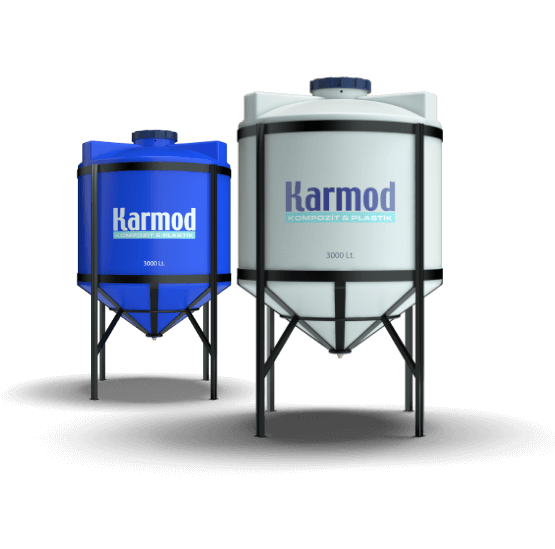 Cone Bottom Plastic Water Tank Prices
Thanks to the tapered body structure and iron protection cage, there are a variety of products that offer safe use capacities producing. There are different models from 1 ton capacity to 20 tons capacity in accordance with the usage area and the settlement of the water tank. Our water tanks, which make your job easier in which sector you use them, after various developments of our R&D and P&D departments suitable for the safety usages.
Water tanks with a wide range of uses are offered to our customers with the most reasonable prices as well as being safe. When the cone bottom plastic water tank prices are compared, you will see that the best products in the sector are Karmod Plastic production cone bottom water tank. Within these products, each water tank has a certain price. The most important factor determining prices is the production raw material and the materials that has been used. Apart from cone bottom plastic water tanks, there are cone bottom storage models produced using polyester raw materials and stainless chrome sheet. When determining the prices of cone bottom storage tanks, the characteristics of the raw materials and materials used in its production are taken into account.
Our water tanks, which are carefully produced by our expert team, are suitable for your needs and it is budget friendly. If you are looking for non-iron standing tanks in accordance to your needs, you can also review our plastic vertical water tank products. You can get detailed information about our products whose production in European standards and whose quality is registered with various certificates. You can quickly create orders with our sales consultants and achieve superior quality.
Cone Bottom Plastic Tank Models
The main purpose of water tanks is to provide storage of various liquid and solid products. The most basic purpose is to protect the products to be stored and to ensure their easy use back. While meeting all these needs, safe usage is our priority. Tank models are produced vertically, horizontally and with prismatic corners. A standard water tank has production using polyethylene raw materials, polyester raw materials and chrome sheet. The water tanks in the conical structure are produced in 3 different models and in various capacities. Conical tanks have capacities between 1 ton and 20 tons. You can easily have our products by making the most appropriate selection according to your usage area and storage needs. These water tanks are also produced with open mouths and closed mouths. In this way, you can choose the desired model according to your usage needs.
Conical storage products have a wide range of uses from water storage in acid form to chemical storage for industrial purposes. Through he cone bottom storage tank models, the storage of all kinds of products is provided. Our products can be used easily with their capacities in various liters. Especially the iron legged conical water tanks produced with LLDPE polyethylene raw material are environmentally friendly and do not harm the environment. Fact that the polyethylene raw material we use has food certified and it offers safety usage against human health.
Cone Bottom Plastic Tank Usage Areas
Tanks are produced in accordance with water storage as standard. With its 100% reinforceable structure, it is made suitable for the storage of all kinds of liquids and chemicals. Since cone bottom storage tank models are produced using LLDPE raw material, they can be strengthened in accordance with the type of liquid to be accommodated and used in all desired areas.
These water tanks are often preferred, especially in agricultural areas. Thanks to its structure, it is used to accommodate various solid and liquid foods. It has a wide range of uses from vermicompost to water storage, from chemical acid storage to pesticide storage, from fruit juice storage to small-sized solid food storage. It is one of our most ideal water tanks thanks to its functional use. Thanks to their corrosion and impact resistant structure, these water tanks prioritize safety in their areas of use.
If there are no problems such as corrosion and impact in your area you will use and if the floor where the tank will be placed consists of a flat area, we recommend that you to consider our plastic horizontal water tank options. With the plastic standing structure of these tanks, the contact of the body with the ground is prevented. Unlike cone bottom tank models, there is no iron protection cage around it. Horizontal tanks are produced in a completely plastic body structure and in a monoblock one-piece body structure with plastic legs in the same way.
Cone Bottom Plastic Tank Features
Karmod production cone bottom plastic water tanks provide use for many years. Considering the features of the cone bottom water tank, the most important advantage is that it is produced with the 1st quality LLDPE raw material that we have specially brought from Europe, which has world standards. In addition, unlike standard water tanks, there is an iron protection cage surrounding the outer body. In this way, it provides a high level of protection against external impacts. In addition, with iron legs, the water tank is cut off from contact with the ground. In this way, it has gained additional protection against impacts from the environment in which it is located.
Tank models with a conical lower body are also produced using stainless feet. Thanks to the stainless feet, the outer body structure can be use more longer. These tanks have standard lid sizes except for the body structure. It is very easy to replace in cases such as cracking and breakage that may occur in the lid. It can be used by attaching a hose or valve to the outlet and discharge slot located on the underside. Conical tanks with output slots in the dimensions you want are easily produced.
Considering the characteristics of the cone bottom water tank, the products in the plastic model have standard dimensions. However, cone bottom storage tank models produced using polyester raw materials or chrome sheet can be produced with special dimensions. For this reason, if you have special projects and measurements, polyester or stainless products should be preferred. When the cone bottom plastic tank prices are considered, the water tanks with the most affordable cost stand out as cone bottom water tanks. For this reason, you should make the right choice according to the usage areas and storage needs of the products you will buy. If you cannot decide about the water tank you are going to buy, you can call our expert sales team to explain your storage needs in detail and get help from our experts in choosing the most suitable product.