The bottom of our silo tanks are manufactured in conical shape. They are used in numerous fields; the most common intended purpose is storage and mixture of chemical material in industry. If efficient processing of chemicals or some other liquids and complete drainage is required, conical bottom tanks are the best solutions. The polyethylene raw material does not come into reaction with the chemical substances which are kept inside the tank. Besides that, the conical shape and smooth internal walls allow full discharge of the material inside it.
We provide both closed top silo tanks and open top silo tanks to our customers. Our open top plastic conical tanks are available from 1000 liters up to 2000 liters and our closed top cone bottom silo tanks are available from 1000 liters up to 20000 liters with optimal wall thickness, durable metal frame.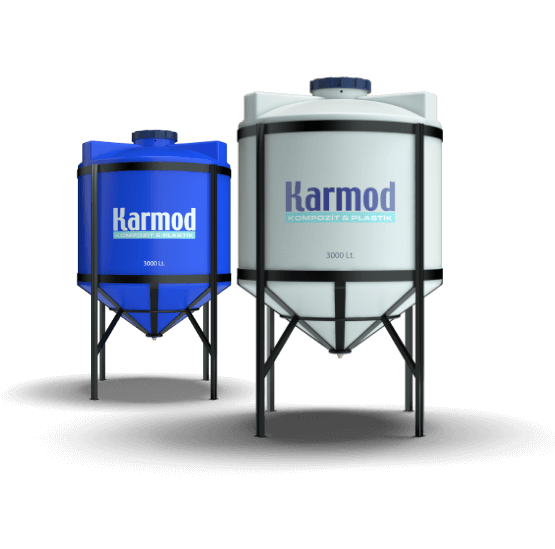 The outlet of conical tanks are at the center of their conical base instead of an outlet up on the side of the tank. In this sense, they are unique in that their contents discharge completely through this outlet. Even for this reason, when compared to flat bottom tanks, using cone bottom tanks has advantages such as saving money and time for many applications.
Natural colour polyethylene permit easy viewing of the level of the liquid inside the tank under natural light so you do not need to put a level indicator on the tank in many cases. This has clear advantages for food production, manufacturing and farming applications. Silo tanks can be used in food sector for glucose, molasses storage, in detergent sector for laxa storage purposes, as a settlement tank or sludge tank for other applications. They can also be used for storage of liquid fertilizers, biodiesel and most chemicals. Mixers or stirrers can be assembled into the silo. Besides that a transferring tank can be put under the main silo tank.
Plastic conical tanks are rotationally moulded in single piece construction. In this process, an amount of foodgrade polyethylene powder is put in a steel mould and heated to a degree in the oven of the special rotomoulding machine. This process is called "cooking". Then it is cooled in the cooling unit of the same machine and this process is called "cooling". Linear low density polyethylene, high density polyethylene, cross linked polyethylene or polypropylene can be used as per the purpose of use.
Designed for the processing environment, a cone bottomed tank have the same features as the flat bottom tanks with an extra advantage; 100 % drainage of product thanks to the cone shaped bottom of the tank. Come bottom silo tanks have metal stand.