FRP square tank offer a rich model variety in water tank types. The general feature of Karmod polyester water tanks is that they present different concepts specific to different usage areas. Horizontal FRP water tanks, which look like prismatic tanks, also provide many advantages to their users because of their design and affordable prices. They look like square water tanks in terms of size.
The square FRP storage tanks is a reflection of this presentation concept special to the design. The basic usage area of this water tank group, where elegance is at the forefront with small designs, is the domestic areas and places such as gardens and attics. With its elegant design, it adapts to anywhere it is placed and gives an appearance like the warp and woof of that particular place.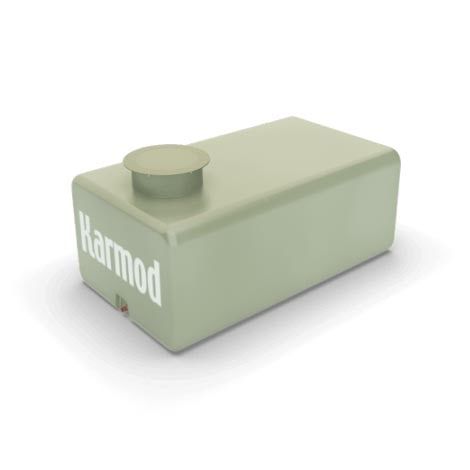 We can say that people who are looking for the most suitable prismatic polyester water tank are in the right place. Because prismatic polyester water tank has the most diverse range in terms of prices. They are the most useful square water tanks because of their design. When people who look for the most suitable polyester water tanks see the square water tank prices, they get very surprised, but they do not need to be surprised as all of the prices written are correct. We can say that all of the square water tank models fall under the highest-quality prismatic polyester water tank category.
6 Different Models in Square FRP Water Tank Products
Production of square water tank models is carried out with Karmod expertise in 6 different sizes. The 200 Liter prismatic water tank is close to the square design, with width-length-height dimensions similar to each other. Likewise, the 250 Liter water tank model provides an elegant, square-like appearance. These two models of water tank can be placed easily in the bathroom or kitchen of the houses. It provides uninterrupted water usage against the water outage of city mains water during day or night.
It provides the same comfort in places of use where city mains water is not available. In particular, it provides the opportunity to store water inside the houses where new separate houses become widespread such as mountain houses and country cottages, which are in touch with nature. With this aspect, it is a model that facilitates the work of housewives. Within the scope of square water tank dimensions, water tank models with a storage capacity of 300 and 400 liters are among the other models produced by Karmod in the polyester prismatic tank group. Square water tank prices vary from size to size.
Square water tank dimensions, the other liter capacity produced as standard in the products is a 500 litre liquid storage tank. The 500 litre water tank is produced in two different models, tight long and wide short. One is specially designed for narrow spaces with its 65 cm width and 185 cm length, while the other model is slightly wider than the first one with its 82 cm width and 140 cm length.
The main purpose of producing the model in two different measurement concepts is to offer the possibility of a prismatic water tank to narrow spaces. The 6 different square water tank models listed here are among Karmod's standard productions, and it can be manufactured in different volumes optionally upon customer requirements. You can contact us via our contact page and get detailed information about customized production of our prismatic polyester tank models. You can visit our website to check out affordable square water tank prices.
The square FRP storage tanks can also be easily placed in the attic of the house without taking up any extra space. Prismatic water tanks facilitate the storage of food items such as glucose, sugar syrup, and special chemicals in industrial production facilities and kitchens. Prismatic tanks can be placed practically for ease of use, regardless of the type of surface of the floor or attic. In places of use such as kitchens, you can save on space by placing it on wall-mounted ready platforms or on existing kitchen equipment such as refrigerators.
Prismatic Polyester Water Tank Are Practical Solutions Wherever You Need Them
It is used safely at everywhere such as domestic areas, attics, parks and gardens, industrial facilities and industrial kitchens. The prismatic polyester water tank can be integrated into the drip irrigation system in the garden, or the houses that get dusty while dealing with the soil can be easily washed and cooled at the same time by opening the square water tank tap next to it. Many different areas such as social facilities, restaurants, buffets, sports arenas are among the places where prismatic polyester water tanks are widely used. With its square practicality, the water tank is also suitable for use by placing it on the trailer of vehicles such as trucks and trailers. In vehicle usage, the polyester square storage tank offers the drivers the most useful square FRP storage tank service with its impact resistance and strength.
Truck drivers that often go long distances in international or domestic transportation, definitely need one of the prismatic water tank options. The vehicles are also the homes of the drivers at the resting places where they stop on the endless roads that stretch for miles and miles. Whenever they feel tired, they pull their vehicles to the special parking areas reserved for them for short-term parking on the side of the road. There is a small kitchen in the right lower part of the trailer. The tap located right next to the square water tank opens, and a sweet break begins with the pleasure of coffee or tea. By opening the tap of the prismatic tank right next to it, they begin a sweet break for the pleasure of coffee or tea; sometimes alone, sometimes with other colleagues.
FRP square tank main body is integrated with its other parts. The cover system located on top of the square water tank, which is also made out of polyester, stands out with its practical and safe usage. The faucet connection sleeve is fitted at the hollow part specially shaped for the nipple. In domestic use or special hoses in industrial use, faucet can be connected to this sleeve easily. Karmod polyester prismatic tank models have many advantages such as their quality, unique design and production with the use of superior impact-resistant raw materials. Square water tank models are produced to suit almost every need and budget.
On the other hand, there are vertical FRP storage tanks that can be used for different purposes. Although they are similar to the square water tank model options in design, they actually have different advantages that are unique in terms of design and affordable prices offer to their users. Likewise, prices are determined to be as affordable and accessible as the prismatic polyester water tank prices.